Last sniper is one of the very few Android first person shooter games that are known from their good gameplay. Being a smartphone game, last sniper has almost everything that a first person shooter should. You can download the free Last sniper APK at the end but before that read more about last sniper here.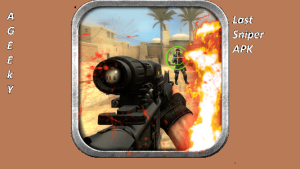 Being a gun lover you would definitely love this game. It has different and cool sniper guns and each levels is different from the other. The game gets difficult by the passing levels and you will have more fun as soon as you progress with the game.
The plot of the last sniper is something like this. Your city is attacked by terrorists and they are creating destruction all over. There are a lot of casualties and survivors are being protected in arsenal. You are the last sniper that is remaining in the police. Though it is very heroic and difficult job but that is it. You will have to eliminate all the terrorists each after another and become a hero of your people.
Controls are easy with amazing smooth gameplay. You can enter the aim mode by tapping on the screen and kill the terrorists. Better shots bring you more points. Moreover there are some realistic sniper guns that you will love while using.
More Features of the Last Sniper:
Here are some of the mentionable features of the last sniper.
With the new physical engine, last sniper has very smooth game control.
There are some realistic sniper guns that gives you an amazing and lively sniping experience.
There are a lots of pops for you to use freely.
More like EA's Battlefield, where gun sounds like you are there present in a real battle.
You can have more fun with the slots games.
Last sniper Reception:
Being recently updated on Google play store on 12th January 2016, it holds a rating of 4.3 which is yet impressive. Number of downloads according to the stats of play store are about 10,000 which shows the increasing popularity of the game.
Download free Last Sniper apk latest version:
You can download last sniper apk here.