Google offered the Nexus 4 for half the price of its rivals and totally altered the game of smartphone. The Google Nexus 10 is the latest offering of Google and Samsung. It offers the latest version of Android, 4.2 Jelly Bean, great performance and a high-resolution screen. Similar to Nexus 4, it is priced very low in comparison to other tablets in the market. The market price of Nexus 10 is £390 with internal storage of 32GB and £320 with 16GB. Now let's take a look at some of the elements of Google Nexus 10.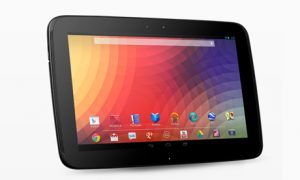 Checkout: How to Root Nexus 10 with Android 4.4.3
Google Nexus 10 Review
Build Quality and Design
The 10-inch device comes with all-glass front without any buttons. There are two speakers on each side of the screen. The width and weight of this device are 8.9 mm and 652 g respectively. It is pretty light, but it is not that easy to hold in one hand. The build quality is remarkable. The rubberish texture on the back panel makes it pretty easy to grip. You will find volume buttons, a 3.5 mm headphone jack, power button, a micro-HDMI port and a micro-USB port on the edges.
Screen
The screen quality is superb with a resolution of 2,560 x 1,600 pixel. You can get more refined viewing experience on Nexus 10. We can say that screen is the most prominent features of this device. The crisp screen is pretty bright and even handles the colors very well. It is a great device to watch TV shows and movies.
Android 4.2 Jelly Bean
The latest Android 4.2 Jelly Bean offers some new features to the users. There is not much of difference in the core interface than the regular Jelly Bean. The notification bar is still in the same location. You can easily adjust the Bluetooth, Wi-Fi and brightness settings. With Nexus 10 you have full access to the Google Play store.
Performance and Power
The Nexus 10 is powered by 2 GB of RAM and a dual-core processor. The super fast processor allows you to take the advantage of apps from the Google Play store. The powerful processor still allows you to have enough power from many activities. It is even able to perfectly handle demanding 3D games, such as Shadowgun, Grand Theft Auto 3 and Riptide GP.
Camera
The result offered by the 5-Megapixel camera on the back is perfectly acceptable for a tablet. Thought it doesn't give a completely even exposure, it is enough to take some snaps for Twitter and Facebook. The front facing camera of 1.9-megapixel is quite helpful to take some self-portraits, make video calls or simply check your hair.
In conclusion, Google Nexus 10 is a bit expensive than the Nexus 4, but it comes with lots of new features. Relatively affordable price, latest version of Android, excellent performance from a dual-core chip, and great high-resolution screen are some of the good features of this device. The lightning-fast performance and stunning screen make it a perfect tablet. If you don't want an Apple, then Google Nexus 10 is an excellent option for you.
Author Bio: Scott Garcia likes to share his knowledge regarding technology with his readers. Read more of his articles to know more about Google Nexus 10 and macbook pro accessories Amazon.