When we talk about some of the top music streaming websites then Mix Cloud and Sound Cloud are the 1st things to hit our mind. Yeah and this is obvious because other than these, there hardly are found any competitors. Here we are going to have a look on the different features of both of the websites to know more about them and come up with the conclusion that what's best? So let's get on with Mix Cloud vs Sound Cloud.
Mix Cloud vs Sound Cloud-Which one is the best?
Note: We will do comparisons based on our own and user experiences so there won't be any side that shall have special favors.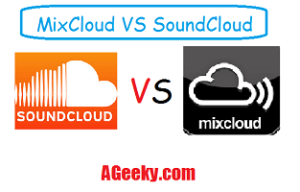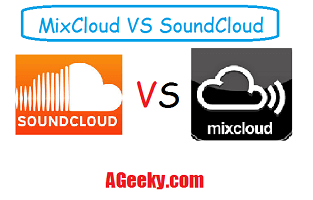 Platform:
Sound Cloud is available for Mobile (Android, iOS) and online while Mix Cloud is available for Mobile (Android, iOS, Windows phone and Black Berry), Desktop an online.
Result: Here Mix Cloud holds a clear edge over sound cloud for covering more platform.
Availability:
Both of the sides work all over the world including United States, United Kingdom, Brazil, Argentine, Austria and Australia etc. Since these are online things so both of the websites go equal in this regard.
Prices:
Though both of websites are absolutely free to stream but that's on base levels. To go premium, you will have to buy membership if you are user of Mix Cloud. It charges you per month and most common offers are $6.99 monthly and $69.99 yearly.
Result: Free is what everyone wants and being free is the main reason that Sound Cloud is the most used music streaming website so here it definitely holds the victory of position.
Services:
Services provided by Mix Cloud include Internet radio and On-Demand music. While on Sound Cloud you only get On-Demand music.
Result: Mix Cloud again over takes here in the race since it provides you another option and expands its range wider.
Artists:
Musicians available on SC are Amateurs and Independent labels. Anyone who makes music can upload his content on the sound cloud.
On Mix Cloud amateurs don't get a chance. All the music there is either Independent or Major labels.
Results: It is difficult of decide here but we will give SC more score because Major labels can get recognition anywhere but amateurs find it hard and sound cloud is something that is really helping them with their music.
Quality of Music:
On Sound Cloud music quality available is 128 kilobytes/Sec while on Mix Cloud it is 320 KB/s so we don't need to say anything about the result here because Mix Cloud wins.
Users:
Being free and providing a music platform for amateurs and anyone who want to try, Sound cloud has a sum of 250 million users while Mix Cloud has only 3 million.
Result: It's clear that Sound Cloud stands victorious here because this number makes it the most used music website and Mix cloud can't get any near.
Content Features:
This will be the last of the categories and some of the cool features from both are.
Sound Cloud:
It gives you ad-free listening so that you won't be bothered. You can create playlists, like/dislike songs, rewind and fast forward songs.
Mix Cloud:
Important features of the Mix Cloud includes, like/dislike button, Computer Algorithm recommending, playlists creations, sync local files, expert recommended music.
Special features of MC:Mix Cloud also provides number of special features such as Comedy, podcasts, sports, talk shows and News.
Result: With these special features Mix Cloud holds a clear edge over sound cloud but the final conclusion remains.
Final Conclusions:
Honestly, final conclusions are very hard to make. If we look at the quality then definitely looking at the features and music quality Mix Cloud seems victorious but it comes of cost. Sound cloud is free and is for everyone and that's why it has 250 million+ users.
We would say that if you can pay then you should go for Mix Cloud because of its amazing features but if you are cool with less features and free then sound cloud is bite.
Share you thoughts about these two awesome platforms in the comments sections below.