The Chinese mobile brand, Xiaomi, after the success of Mi 3, is all set to launch another budget friendly smartphone with awesome specifications in India – the Xiaomi Redmi 1s which will be priced Rs. 5999.
In the similar price range, we also have the Motorola Moto E, which had redefined the market by offering not seen before specifications.
In this post, we will compare the specifications of both Xiaomi Redmi 1s and Motorola Moto E. These budget friendly smartphones are exclusively available on flipkart.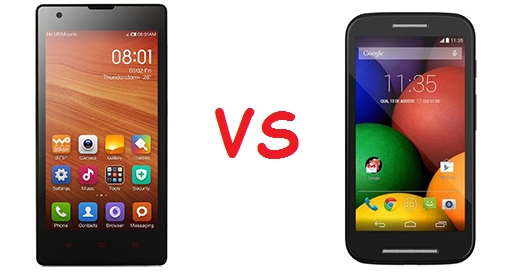 Xiaomi Redmi 1S vs Motorola Moto E
Display
Redmi 1s sports a 4.7 inches touchscreen with 720 x 1280 pixels resolution while the Moto E sports a 4.3 inches touchscreen with 960 x 540 pixels resolution. The former offers a HD display while the latter offers a qHD display. The Xiaomi is the only smartphone to offer an HD display in this price range.
Camera
This phone features a 8 MP primary camera with LED flash whereas the Moto E features a 5 MP primary camera but lacks LED flash. The Redmi 1s also has a 1.6 MP front facing camera while the Moto E doesn't.
CPU
Both Xiaomi and Motorola are powered by Qualcomm SnapDragon processors clocked at 1.6 GHz and 1.2 GHz respectively. They both are coupled with 1 GB RAM.
Storage
The Redmi 1s has 8 GB on-board storage compared to 4 GB of Moto E. Both the smartphone has an option to expand memory using a micro SD card.
Operating System
Here the Moto E has an edge over Redmi 1s since OS continues to be the deciding factor for many users. Where the former runs the latest version of Android KitKat (version 4.4.4), the latter still runs the Android Jelly bean under the company's custom UI.
Battery
Where battery is concerned, there is not much difference between Moto E and Redmi 1s since the former packs in 1980 mAh battery while the latter packs in 2000 mAh.
Xiaomi Redmi 1s vs Motorola Moto E Specs Comparison
So what are your views regarding both of the budget friendly smartphones …
If you were given a choice between the two, which one would you select?
Comments are appreciated !!!