Amazon is a popular Business to Customer electronic commerce and cloud computing company that headquarters in Seattle , Washington. It is owned by Jeff Bezos, 52 years old technology entrepreneur  who is believed to play a great role on uplifting eBusiness and eCommerce through out the world.
Amazon is considered to be America's greatest online retail store. It was established back in 1994 and could be considered as one of the highest net worth online store company in the world.
Amazon.com is available in different languages like English, French, German, Spanish, etc and is operated worldwide.
 Jeff Bezos' Net worth and value
Jeff Bezos is a New Mexico born American entrepreneur and is popularly known as the founder and CEO of Amazon. He was born to Jacklyn (née Gise) and Ted Jorgensen and his maternal ancestors were from Seattle who lived in the Texas.
Bezos had an interest on technology since his childhood and he displayed scientific interests. He once build an electronic alarm to keep his sisters away from his room.
After graduating from Princeton, he worked at the Wall street as a computer engineer. He had the idea about Amazon during his cross country drive from New York to Seattle. He left his job to star his company from a garage. He was more enthusiastic and determined about his business , Amazon when he came to learn the rapid growth on the use of the internet. This was the journey when Amazon's net worth started to rise from where it belonged since then back in 1994.
Jeff Bezos also purchased The Washington Post for $250 Million which is held under his company Nash Holdings LLC which was created to acquire the daily newspaper based on the capital city. The deal was announced back in August , 2013
The Total net worth value of the American based entrepreneur is 61.5 Billion United States dollars as per 2016 as stated by the Forbes.
| | |
| --- | --- |
| Original Name | Jeffrey Preston Jorgensen |
| Net Worth | $61.5 Billion |
| Income Source | Online Business, computing, newspaper |
| Estimated Annual Income | – |
Amazon Net Worth
Amazon is one of the leading online commerce business to client platform. It has employed more than 230,000 employees from around the world and makes an estimated sales of over 107 billion.
The Amazon is ranked #12th in the most valuable brands and ranks eighth in the most innovative companies in the world.
The estimated net worth of Amazon is around 290 Billion US Dollars.
| | |
| --- | --- |
| Original Name | Amazon |
| Net Worth | $290 B |
| Income Source | online commerce and different subsidiaries |
| Estimated Annual Income | $40 B |
Amazon has acquired many popular brands like Goodreads, audible, IMDB and many more which increases the net value of the company by a great height.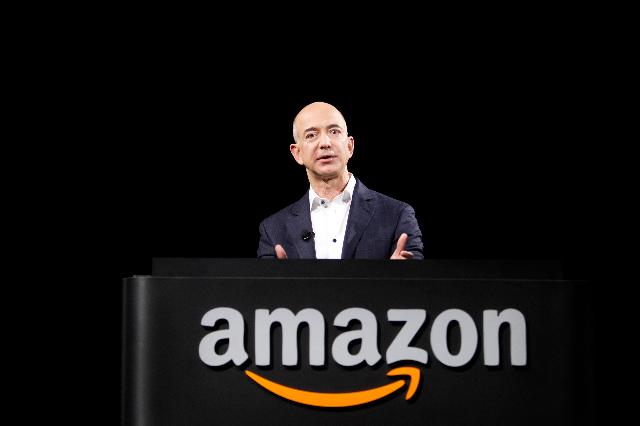 Amazon.com Subsidiaries
Amazon has different subsidiaries that adds to the income of the popular internet based business. Some of them are:
a2z : Amazon basically has two a2z Development centers, one of which is located in Cupertino works on the development of Kindle and other situated at San Francisco works on the development of Digital music and mobility.
A9.com : A9.com is another subsidiary of Amazon that develops search and advertisement technology. The main foucs of the Ap is in the development of cloud search technology. It was created back in 2003 with an aim to improve search, especially cloud search technology.
Amazon web services : This adds up a great value on the increment of the Amazon total worth as the product has been widely used, basically on the web based projects. This service operates from 12 different geographical region in the world and helps to improve the on demand cloud computing suite. The AWS started to offer its web services since 2006 and has established itself as a great scalable and widely chosen web service. The service is mostly popular for being agile, reliable, secure and low cost at the same time.
Alexa Internet : Alexa remains one of the best web project that exists so far. This tool is very much essential for web developers and remains a backbone tools for the Internet marketers to analyze their opponent. Alexa is basically famous for providing the rankings for websites and provides web traffic data and analytics and analysis like backlink analysis, rank analysis, etch
Audible : Audible remains active for selling digital eBooks for entertainment and education. Audible was acquired by Amazon back in 2008 for around $300 Million.
Comixology : Comixology is another Amazon subsidiary and is a cloud based digital comic distribution platform with over 200 Million comic downloads. It was only in April 2014 that Comixology was acquired by Amazon.
Digital Photography review : The Digital Photography review or the dpreview.com was first founded by Philip and Joanna Askey from the United Kingdom back in 1998 and it was only in 2007 that the digital camera and photography review website was acquired by Amazon.
GoodReads : Goodreads was acquired by Amazon in 2013 for an undisclosed amount.
Internet Movie Database: IMDB or the Internet Movie Database is the largest database for movies and artists. The service was started in 1996 and it became the subsidiary of Amazon in 1998. It lies among one of the top 100 visited website in the world and is the most trusted and authentic platform for rating and reviewing movies. People often refer to the ratings, critics and reviews on a movie before they invest their money on entertainment watching the movie.
Junglee.com: Junglee is an online shopping platform owned by Amazon.
Twitch : Twitch is a live TV streaming platform owned by Amazon. The site has more than 1.5 million broadcasters and over 100 million visits per month. It was acquired by Amazon in 2014.
Zappos: Zappos is an online commerce business based on Las Vegas. It is online shoe and clothing commerce business which was acquired by Amazon in 2009 worth a deal around 1.2 Billion United States dollar. It has become one of the world's leading online business since then. The online shopping platform had a record 1 Billion dollar sales in 2009, subsequently it was sold for around 1.2 Billion dollar to Amazon.
Jeff Bezos business
Jeff Bezos has different other businesses other than Amazon and its subsidiaries. While Amazon remains something that has made him popular and wealthier, he has some business like the Blue Origin and The Washington Post.
While many may not know this, Jeff Bezos was among the first few investors in Google as he invested $250,000 in Google back in 1998.
Jeff acquired The Washington Post back in 2013 and already announce that Amazon had no involvement on it. While Bezos founded Blue origin in 2000. Blue Origin is a human spaceflight privately funded aerospace manufacturer company. The Blue Origin company is building technologies and devices to privately allow humans to access spaces. The main aim of the company is to build space hotels and amusement parks to accommodate more than 2 to 3 million people.
The commercial release of the blue origin could drastically improve the net worth and values of Jeff Bezos, one of the leading man on internet and technologies. The fact that he invested around quarter million dollars on Google back in 1998 gives an idea of the vision and thirst of Jeff on the development of internet and Information Technology.