Google adsense by far dominates the advertising networks when it comes to publishers. The reason that Google dominates the advertising and publishing network , with advertisers putting their weight on adwords and the fact that it has great number of publishers from around the world, people tend to advertise on adsense.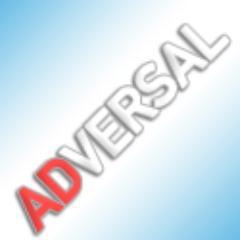 This fact builds a good competition among the advertisers and hence the bidding war increases resulting a better amount of money per click for the advertisers. The advertisers gets somewhere around $.01 to 5$-6$ or sometime even more, depending on the competition and the effectiveness of the publishing campaign. This makes adsense by far one of the most paying, used and trusted advertisement network for bloggers and many other publishers.
However the strong policy, the unpredictable decisions and claim that adsense has been too harsh to their advertisers resulting many accounts being disabled. Some claim that their account were gone for no reason whatsoever, while some claim that adsense has its monopoly which troubles the publishers. These kinds of claims and problems cause the publishers to turn around to some other advertisement networks.
While sometimes, there are some networks like adversal which offers something that Google adsense does not, this is why people come and engage on these kind of advertisement network. Today, we will be discussing adversal reviews, its potential earnings and how much people are making from adversal and finally we will compare adversal vs adsense through out this blog post. We will also discuss some advantages and disadvantages of the adversal advertisement network through this review.
Note : This adversal review is independent of any sponsorship deal or endorsement. This is a genuine , honest review based on the experience and does not intend to promote adversal or discourage users about adversal advertisement network.
Adversal advertisement network requires the publisher to have at least 50,000 page views on their websites before they could enter the advertising program. Because of this requirement, we could imaging the legitimacy of advertising network and believe that this network delivers good value to the advertisers.
The minimum payout for the advertisers is $20 and the payment is made on a  Net35 days, which means the payment will be made 35 days after the end of the month if you meet the minimum payout requirement of $20. The network also offers a referral system which means you could refer your friends or your visitors to the advertising network and earn 10% of whatever they make through out their life. Payments could be received through paypal.
Advertisers could apply for their advertisement platform if they have more than 50,000 impressions every month on their website. However if application is rejected for joining the program, the publisher could make an another attempt of joining the network after another 30 days from which the application was rejected at the first time.
Meanwhile, an advertiser could start their campaign with a deposit of as little as $25 in their account and get their advertisements started once they are reviewed, which adversal claims to make as fast as possible. Deposits could be made from any major credit cards and paypal accounts.
Adveral Terms for Joining the Network
Every advertisement networks have their own criteria to get into their network. Apart from the fact that the publisher website should at least be making around 50,000 impressions every month, there are some other terms that must meet in order to start showing the adversal advertisements on your website.
Your website must be more than 60 days old in order to get approved. This means a brand new blog or website may not be approved to this network. You must wait for some time if your website is making more than 50,000 page views but still is younger than two months.
Meanwhile adversal does not allow publishers to be an image hosting website or they do not approve any traffic from other traffic exchange programs.
A file upload websites, or a proxy website are also not approved in the network as they are against the terms and conditions of the publishers if they need to join the network.
The advertisement network
The adversal advertisement network has all the banner advertisement features as all other advertisement does, however it also offers additional advertisement service like a popunder advertisement which Google adsense does not.
Since the adversal advertisement network was established back in 2003 and has been into existence from as long as the most influential advertisement network, Google adsense, this makes adversal advertisement network trustworthy and reliable. The adversal advertisement network may not be as popular as adsense but it is popular among the advertisers and top advertisers tend to use this advertisement network as a platform to display advertisements on their website.
Adsense vs Adversal
The comparison may not be meaningful as adsense has dominated the advertising platform from a long time. It has established a monopoly in the advertising display platform which is hard to defeat, however adversal remains better in some ways. The fact that adversal is into existance from 2003, as long as Google adsense makes it clear that this advertisement network is into the business from a long time and they have been increasing and improving with time. Their long time experience tends to add advertisers and publishers real value.
Apart from what adsense provides, adversal also provides a pop under advertising option which could be a great deal for the users who want to display pop under ads. Although you could use adversal and adsense in the same website, however we appeal you to remain cautious if you do so. Although it is not written clearly on the terms that we should not use both advertisement networks together, adversal clearly says that website with too many advertisements are not encouraged, so you must be careful on implementing both advertisements networks in the same time.
The Pros and the Cons
There are different advantages and may be some disadvantages of the advertisement network. One of the major pros could be that, once you meet the requirement, you will get approved to the advertisement network in short period of time. While another pro remains that you could display pop under advertisements and CPM based advertisements.
While Chitika only allows advertisements on the English Language targetted websites and adsense may not support their advertisements on languages like Nepali, you could display advertisements on any languages on the adversal advertisement platform which adds to the advantage of this advertisement platform.
One of the major con of this network is that they do not update real time data on the reports and these are updated on an interval of time, sometimes once a day. Although ad networks like adsense have real time updates on their analytics and reports, adversal doesnot. Still this is not a major problem that keeps the publishers away from this network.