There are many people who have a different verdict on paid for uploading files, while Sharecash is a different one with a different concept. While there were some popular paid to upload files like Ziddu back in times which paid users when some of their visitors downloaded the file hosted on Ziddu. They paid as few as some cents when people downloaded the files, however Sharecash is a CPA network that pays you when some of your visitors download files from them.
However, people will have to complete a survey before they could download the files, which means you will be paid for asking your visitors to download the file. Its a give and take world, so the people would complete a survey in order to get their download ready. While you are giving away your files, people are completing the surveys and you are making money with the CPA actions through Sharecash. They pay you up to $1 per download or sometimes even more for every downloads.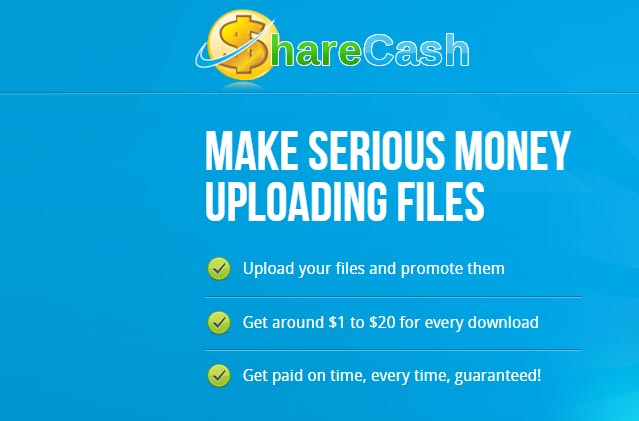 ShareCash Stats
Alexa Rank – 25,546 (by the time this post was published )
The whois of the website shows that it was registered on 2009 and has been into existence since then.
How to make more money with Sharecash
There are tons of different ways on how you could make money with Sharecash. The main motive is you need to let your visitors download more files so that you could make more money out of your account.
Although the methods could be a back hat or a white hat, there is an explanation on how dalerodgers made more than $50 a day on Sharecash with scam. However I will first discuss about the ethical ideas on how you could start making money on sharecash, but later I will also share some ideas on how you could start making money on Sharecash with little efforts.
One of the ethical way would be by sharing some tutorials and opting users to download more for free. For an example, you would post a part 1 of the video of some tutorials on YouTube for free and teach them certain things. Additionally in the video you could let the users know that the second part of the video is available through download and add the download link on the description. If your video is useful, informative and appealing enough, you would get more downloads to your files making more money through sharecash.
Additionally you could host some files on sharecash and rank the search terms. For an example, lets say you are a musician and made some ringtones of popular songs. People would search for the ringtone downloads , so you could rank for those keywords and direct the visitors to download the song on Sharecash which would make you some extra bucks.
The unethical way
As dalerodgers has explained , there are quite some ways to manipulate people in order to get more downloads and start making cash on sharecash. The motive behind this method is to confuse people and force them to complete survey and download files in order to improve the earning.
Usually what dalerodgers did was, he searched some videos on YouTube which pretended to teach how to hack Facebook accounts. Although hacking Facebook account is not literally possible for general audiences to learn, neither he knew anything about hacking, he just uploaded those videos in order  to generate views and increase the downloads. He downloaded some random file from internet and renamed it to something_facebook_hack_v1.2.zip and let it download for free. However the zip file was password protected and the upload folder had a text file that asked users to download a password through some sharecash download. He said that it converted comparatively more than adding files normally.
Additionally he also used a method where he uploaded files on some torrent clients. But as he said earlier, he made the files password protected and asked the users who downloaded the files to go on and download the password. The passwords were only available once the user completed the surveys and he made money.
Additionally you could also use the unethical ways to get visitors on certain keywords, usually the cheat of the games, nulled versions of the applications and the themes and ask people to download the files. You could either use YouTube or your own websites to get more views on your offer, however this will not be a better way to influence your visitors as you will be cheating them through the entire process.
PPD over CPA
Now that the basic concept explains that Sharecash and any other PPD network pays users with CPA offers. So why would people not choose CPA Grip and other CPA networks to lock the files if CPA grip could pay even more for  completing the surveys. The general answer is that PPD networks like Sharecash is made in order to increase more conversions and is only dedicated to files download which makes it better than other CPA networks when it comes to locking download files. Additionally CPA grip and other CPA networks does not allow file hosting while in Sharecash you could host the files which is quite easier than hosting the files on your own domain and locking it with CPA offers.
Sharecash Review
Sharecash has been into existence from quite a long time and it has good payment history which makes it reliable network. Apart from reliability, sharecash has some good features which makes it a better network than other PPD services. The monetization tools gives you the opportunity to make the most out of your traffic. Additionally , a large community could help you learn and earn while you get started to Sharecash.
The minimum payout of the network is $20, and you could be paid via different payment methods like a wire transfer, Payza, Cheques or Payoneers. The premium members receive payments every week, while normal users get paid every month.
So, there are many other upload and earn websites, while Sharecash remains one of the most trusted network in the community. Which network do you use ? Write down in the comments below.