In the series of First Touch Soccer football simulation game, FTS 14 is another big name. Just as realistic and marvelous as latest games in the series, it is always incredible to play this game even after 2 years of release. To know about this game, you need to read a detailed feature review and that's why I am here. You will also be able to download the free APK for the game at the end of this article. So let's put some good eyes on the modes and features of FTS 2014.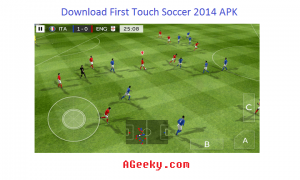 FTS 2014 Features and Modes Review:
Gameplay:
First Touch Soccer 2014 or FTS 14 is a mobile football simulation game for those who are in this business for real. The game has breath taking footballing environment where everything is so near to reality. Ball control, passing, shooting, dribbles, set pieces and everything that is on football pitch happens here with grace. You would love the movements of players, the way they play and various game modes that are part of the game. The game has enhanced manager mode with a lot of things to do on a football pitch. In Manager Mode, you can create your squads. You can customize Kits, stadiums, balls and all other team stuff. Play more and more to earn more XP and then buy class players to make a classic squad. You can create squads containing legendary players as well as all new players that are making their name on the football pitch. Your management skills will face a real test here on FTS 2014. Though you can use different hacks and mods available but what good are they if they would spoil all the fun. It's always better that you play it from start and have real fun of the game.
Teams and Kits:
FTS 14 is full of colors when it comes to wear about. There are 1000s of kits from all the leagues and clubs for your favorite team. Choose your colors to wear on the pitch. All teams such Real Madrid, Barcelona, Bayern Munich and all other big and small names have got their jerseys. You can also customize jerseys comprising your favorite colors for your squad and have more fun on the pitch.
Game contains all the major leagues and teams. You have team from Spanish League i.e. Barcelona, Real Madrid, ATHLETICO Madrid and all other that you can name. From Barclays premier Manchester United, Arsenal, Chelsea and Hot Spurs along with all names can be seen in action. Other major leagues from world football that are in this game are German BUNDES League, SERIE A, French LIGUE 1 and Major League Soccer. Enjoy the dribbles of Lionel MESSI, Tricks of Cristiano Ronaldo, Passes of Iniesta, Free kicks of David Beckham with crowds chanting and the comments of commentators and everything that happens on a football pitch. Total number of teams is around 180 and there are about 30 football competitions which shows that how big this game is.
Some other Game Modes:
More of the mentionable game features that are part of the game are as follows:
Amazing Graphical environment with realistic terrain and stadiums using latest mobile graphics technologies.
Sound FX and Music is just mind blowing and you feel real pumped for the game.
Easy to manage settings and game modes.
Smooth and easy controls for shooting, passing and to do other moves while playing.
Credit upgrades to earn more and more XP to buy players and all other stuff for your club.
New player movements which helps them to control the ball easily. Moreover Goal Keepers are more efficient with faster moves and gymnastics.
Modern defensive techniques used. Now your players are better than ever in defense and offense will be challenging. Defensive players will use better tactics to tackle your players making it more difficult to score.
Commentators have now got more comments in their bank and their views will be enjoyable while playing the match.
Kits and other wear about is better and more colorful. There is not a single team whose colors are missing in the game.
Manager Mode is enhances and better than before. Now you will have more control over your team stuff.
Now it is up to you that how you manage all the things in your tally.
FTS 14 mod 3.01 features with download link:
Mod developers are also here that always keep adding something new and amazing to your game. You can update your game by installing the mods. The best and latest of them is this 3.01 version which comes with really cool unlocked features. Download link is available right after you read that what are the new mod in this version 3.01?
Now you won't have to worry about the limit of what you have. Everything such as Credits and points are unlocked and unlimited. With unlimited credit points, you can buy every single one of your favorite player, kits and other stuff which will make your club unstoppable.
VIP unlock mod is also available. Enjoy all the special items and unlockable that needed months of gaming time to open with a lot of credits.
If you are online then you don't need to worry because this mod cannot be detected by the online client. So now you can play your game without being detected by the client and enjoy the game.
There is 0% of doubt in the working of this mod. Just download and install and this will be ready for you. Forget all the suspicions whether this mode will work or not.
No Jail break or root is required. Play the game with this mod on your original operating system.
Interface in the mod is very user friendly. You won't get stuck in operating anything in the game. The interface will guide you to each step so pay attention and have fun!
Download FTS 14 mod 3.01 from this link.
Download FTS 14 APK:
You can download FTS 2014 apk latest version for free using the green download button below: