Are you done having fun with all the mega things and now you're quite bored and all you want to do is sit on a couch and do something easy but interesting which could pass your time well while having fun? We're going to bring your attention on an ignored genre of the games which actually could really pass your time having fun and doing all the learning. Wonder! What is that? Well! Yeah we are talking about playing Texting games. These games are awesome while you're on a journey with friends and you want to do something interesting with your friends.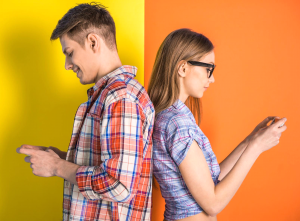 List of top 5 texting games:
Here is a list of some of the top texting games which are available easily and are best at their work.
1. I SpyL:
This is considered as of the top exciting and classic games. This game wants you to be really observing about your environment because this game works on the basic principles of observation.
In this game you will think of a thing from your environment and will tell only the first letter to your friend. Now your friend will have to guess that thing and yes that depends on how good observer your friend is and in his turn they will do the same. Amazing! Isn't it?
2. Guess The Character:
This game is another of the classic and quite the same like I Spy. The basic principles of the game are same but this game includes vast area of knowledge and imagination. You'll think of a celebrity, famous place or event and your friends will have to guess that my asking different questions which could either be limited or unlimited. The one having more knowledge generally is the king of this game.
3. Abbreviations:
This game is simply but is more difficult. We are all used to use different abbreviations while chatting or talking with our friends but most of them are known and common such LOL! LMAO! And many others. Now here in game the thing gets quite complex. You'll say something to your friend using abbreviations which might not necessarily exist. For instance you say to your friend 'BTWHRU' which has a full form 'By the way How are you' and he will have to guess it. Good thing about this game is that you can play it on phones or internet chatting sites and it is very difficult to cheat because these are not common or known abbreviations and you just made them on your own by eating down the letters from a word.
4. In Character:
Well! This is my favorite game which I love to play with my friends or siblings. You've got to choose two characters and make sure and you know about those characters and all you have to do is talk like those characters would, when they meet. They could be Eminem meeting Jay-Z or Walter White meeting Rick grimes so their talk will be something like a rap battle or zombie apocalypse or a meth lab HAHA!. I am sure you going to love this game because this is how interesting it is.
5. Song Lyrics:
Do you or your friends claim to be the biggest fan of music and claim that you remember every song that you've heard? Now this is a game to put proof for all those claims.
In this game you will send over a lyric from his favorite songs or maybe random song and he'll have to guess the song and name of the singer.
And these were the top 5 texting games that didn't know and now you're going to have a lot of fun with them and if you want to stay tune about more of such stuff keep visiting our sites for more.