We know that FIFA 17 is coming and all of us seem pretty excited about it. Well, you must know 27th September 2016 is the release date for the world's best Football simulation game. But is FIFA really the best? If we make an assessment of all the leaked gameplay and features, we realize still the developers are trying too much. Instead of moving closer to the realistic gameplay, they are getting away from it. It is also true that the features in this year's edition are really amazing but still we see something is lacking. I am going to talk about in detail in this article. FIFA 17's demo is also going to release in the dates between 10 to 13th September and will finally be able to see that what it will be like. Let's talk more about FIFA 17 now.
FIFA 17 Pre-release Game Review.
I am a big fan of FIFA and I loved everything in this year's edition except for the thing I have always been complaining and that's the game speed. FIFA always looks very fast which doesn't make it very realistic as the developers' claim. A lot of things are improved in this year's edition and I really loved the defense got better. Threw balls have also been improved which were a disgrace in FIFA 16. I am really excited to play this year's FIFA 17. Still, we have a demo to play and then the final game so nothing much can be said yet. I really hope that FIFA again will be better than other football games this year as well. Players loved the new game modes such as throw-in, crossing and corner marker adjustments, and of course, facial textures designed by Frostbite engine. Are you ready to take over this year's FIFA with the same enthusiasm? Well, FIFA 17 demo release date is somewhere between 10 to 13th September while the full game is going to release on 27th September.
FIFA 17 New Game Features.
This year's FIFA has a lot of new things that are really appreciated by the experts and players. They have added a lot which was lacking in last year's FIFA 16 and it seems that EA is eager to beat PES 17 this year. Why is that? Let's go through some of the leaked game features in this year's FIFA 17.
New Free-Kick Modes.
EA have changed a lot this year and this new free-kick mode is one the things. Now you can adjust your player's position by moving here and there to shoot more accurately. This will help players to confuse the goalkeeper since the ball is going to screw in and out more. Adjusting player position will open him up for taking more difficult angles for keep to catch. Moreover, players such as Leo MESSI, Ronaldo, James, and Bale will be more accurate since you can adjust them right according to their position.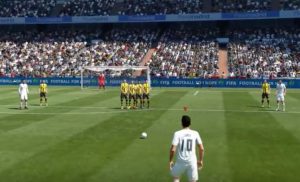 New Penalty Kick Modes.
The same feature has been added to penalty kick as well. Now you can adjust the position of your player on the pitch to increase the chances of scoring. The player will take different tricky run-ups towards the goalkeeper to confuse him with their kicks. You will be able to screw the ball in or out by changing your player's position.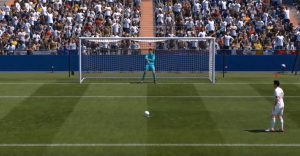 As you can see in the image, the player is coming from sideways to give himself more room and it will be very difficult for the goalkeeper to judge. In the previous games, you could only score from one position and that was much easier to judge for the opponent. Features like these have really added to the beauty of FIFA 17.
Taking Throw-in, threw balls and Crossing the ball in FIFA 17.
We have also seen few changes in the throw-in and crossing modes. Now you will be able to move the player alongside throw line to give him better look of his players. Though, the rule in football is that you must throw the ball from the spot it went it. However, this is not the case in FIFA 17. You can adjust your player's position alongside throw line to throw the ball at a longer distance or at any player in you want.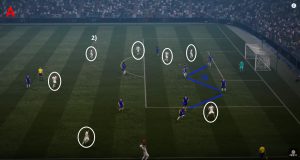 Also, while taking corners and crosses, a marker will be there to adjust the position for your player to come and receive the ball from where you are going to shoot it. This makes your striker create more room for himself and score easily. Threw balls have also been improved in the new FIFA 17 which was a real concern in FIFA 16. You could hardly make good threw passes towards your team mate and now this has been improved in this game from EA Sports.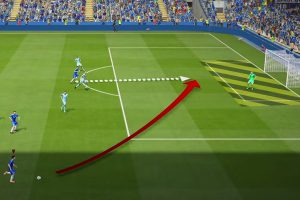 FIFA 17 Graphics.
FIFA always have had an edge in this part of the game. EA has always been better with his graphics technology and this year it got more insane. Yes, Frostbite also joined FIFA 17 team for making graphics and when this name comes then the gamers better know, what do we mean? The environment, grounds, grass, motions, player expressions, and movements seem more realistic than ever. Of course, you are going to need an upgraded PC to play this game at 60 fps and max graphics settings. Using Frostbite 3.0, the faces of players look so realistic that it reminds of CRYTEK' work in the Crisis 3. Have a look at Anthony Martial's face to witness the greatness yourself.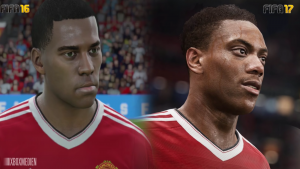 FIFA 17 Top 10 Player Ratings.
Let's about another FIFA features that matter most for many players which are Player Ratings. Again this year MESSI and Ronaldo are the top rated players with Neymar joining them on No. 3. Ronaldo this year surpasses Leo with a player card of 94, while MESSI has a rating of 93 and it is the first time he got behind Ronaldo. See the cards for this player yourself below.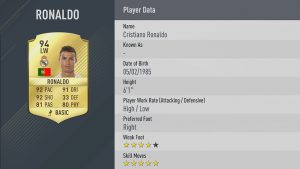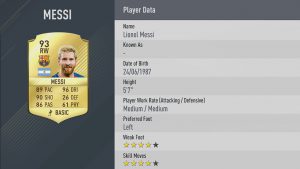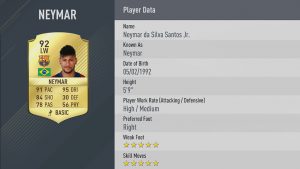 Player rating for other players in top 10 is following.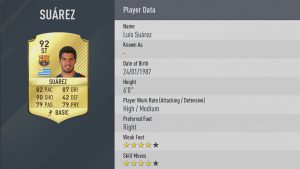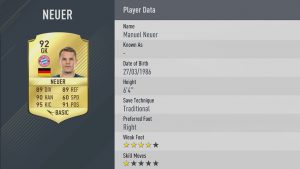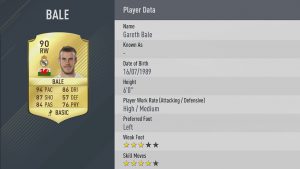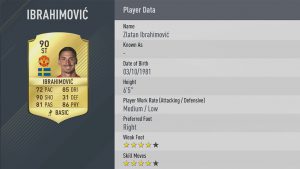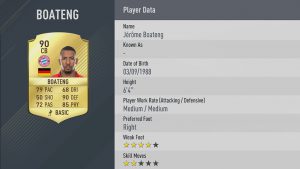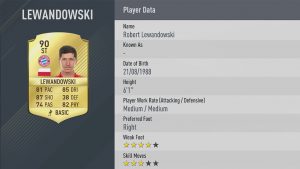 FIFA 17 Gameplay Video.