Samsung have come up with their new J series smart phones which are reliable as Samsung always ensures. There are total 3 phones that are released in the series which are named J2, J5 and J7. Let's have a brief look on the new features that are part of this series.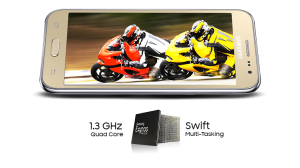 Features of Samsung J series:
Ultra data saving mode.
The new J series features ultra data saving mode which enables you to save data by putting a stop to un-necessary background applications that you aren't using but they still consume data. In the same way it doesn't let any adds or pop-ups to use date thus saving about 50% of data while watching a video or streaming.
Super AMOLED display:
Now with J series days of watching videos on an average quality screen is history. It features super AMOLED display providing you sharper colors and a 100 times deeper contrast which gives all the images and videos a sharpened look.
Fastest 4G:
Samsung J series also features next-gen fastest 4G internet with which now streaming HD videos is no longer a hurdle in your entertainment time. Multi-tasking with the faster internet is now just a matter of few taps on the screen.
Flash with front CAM:
Now this is something really cool from Samsung. Flash has been part of smart phones since the beginning of them but providing flash for the front camera was an idea that is real genius because front cam is used for video calls and selfies but at night somewhere it needs light otherwise what good is a dark video call. And this is what been solved with the front flash, now you can talk more at night with friends and family and have even in the absence of light.
Appearance:
Samsung J series is smart and impressive when it comes to look with 8.4 mm slim body and three different colors are available for the phone.
Artworks for Indians:
If you're an Indian that J series provide you with a number of many artworks that are available in the gallery and can also be loaded from the stores that highlights the culture and tradition of India.