Without any doubt, Facebook is the backbone of Internet Marketing and no matter how hard you try, you could not keep your business isolated with Facebook.
When it comes about engagement and reach, Facebook videos gets almost 1000% more likes and shares and total reach that text or image does.
The Facebook Live  was inaugurated year back to selected accounts and now it is available to all accounts on Facebook. With Facebook always prioritizing its new features in order to make people used to it, Facebook Live would certainly get more post reach when you plan to live stream any events.
The live events not only helps you get views during your event is live , but the video will be available as normal  video once the streaming ends. This provides opportunity to get more views on your live event even when you event ends.
The live events would generally help your business, here are three ways how your business could capitalize live Facebook events. Anyone with a video camera , Facebook app for ios or android and a proper internet connection could start a live event.
Here are five methods on how you could reach to more viewers on Facebook Live events :
Pre-information
Let your viewers know that you have scheduled a live stream in certain time. This will let your followers informed about the live event and they could eventually check back and get prepared during the live streaming.  By telling people ahead of the time that you are going live, you could build anticipation about your events. Additionally you could use a proper #hashtag on your updates about the live streaming.
A compelling description
You should be able to write a compelling and clearly informative caption on your live event before you get started. This will let your fans know what the live event is all about and it will eventually get more viewers to your live videos.
Ask your Viewers to Follow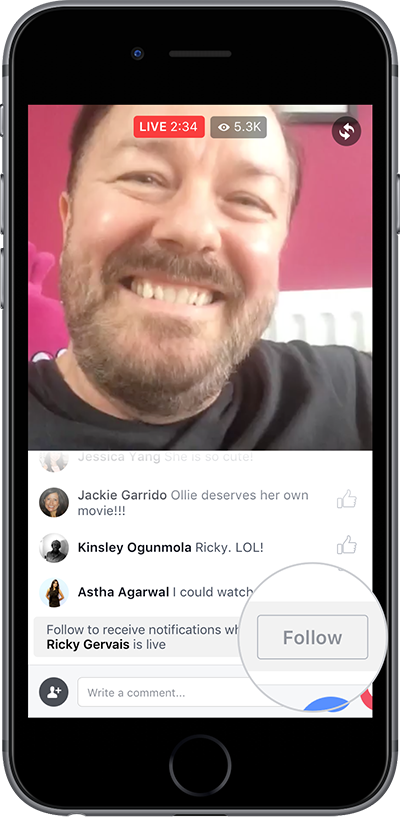 Ask your viewers to follow notifications during your live events so that they will be notified when you go live for the next time. Higher the followers on your live events, more viewers you get on your next event.
Compel to Comment
More comment means more engagement, and more engagement always yield more reach, either it be your normal Facebook posts or normal Facebook videos. Ask your viewers some message that you would react to in your live events, this will increase your comments which will eventually yield more viewers in your live events. Be creative enough to get more comments in your videos.
Case 1 : A YouTube celebrity from Nepal, Ayush Rimal  asked his fans to leave phone numbers in the comment box and he would call some random fans in the Live Event. This attracted more than 2500 comments on his Facebook live event hosted by his official page which only has 50,000 fans, and the live events had more than 1500 concurrent viewers and eventually had more than 20,000 views on total.
So use your creativity to yield more comments so as to get more views on your live event.
Go Live for Longer Time
Facebook live Events could be 90 minutes long at maximum. Try to be live for as much time as possible and viewers would increase with time. Compel your fans to comment and engage on the live events and that would reach even more fans on Facebook.
Sharing is Caring
Ask your closed friends or even your fans to promote your live events for you. Ask them to share the live event in their Facebook pages, profiles or even in some related Facebook groups that would improve viewers to your Facebook live events.
Although the Ayush Rimal case that I stated had 2500 comments, it only had 4 shares. If it had more shares, it would have yielded more viewers.
Case 2: Another Case, Lao TV Office Facebook page streamed an event, Nepal vs Laos Live Football match through its Facebook page. Although the page only had 12000 fans on its Facebook, the live video had more than 800 shares resulting into a whooping 50,000 total views on its video and more than 5,000 concurrent views on its live events.
You could easily start a live streaming event in your Facebook account in order to promote your brand or engage with your fans on Facebook. Follow the tips mentioned above and get better results on your live events.
Share your experience and your tips on the Facebook Live events below in the comments.