Tools make life easier and even when you are blogging, you rely on them. Not all bloggers are geeks and mostly they could not code themselves, so they rely on available tools and plugins.
Building email list is must if you do not want to miss out on possible revenue generation. Neil Patel in this Quicksprout post has explained that over 16% of his total blog traffic, 37% of his blog comments and over 40% of his total revenue comes in from email visitors. This proves why building an email list is importance.
Now that you know how important collecting email subscription is, I will share you four free tools or plugins which will make your email collection easier.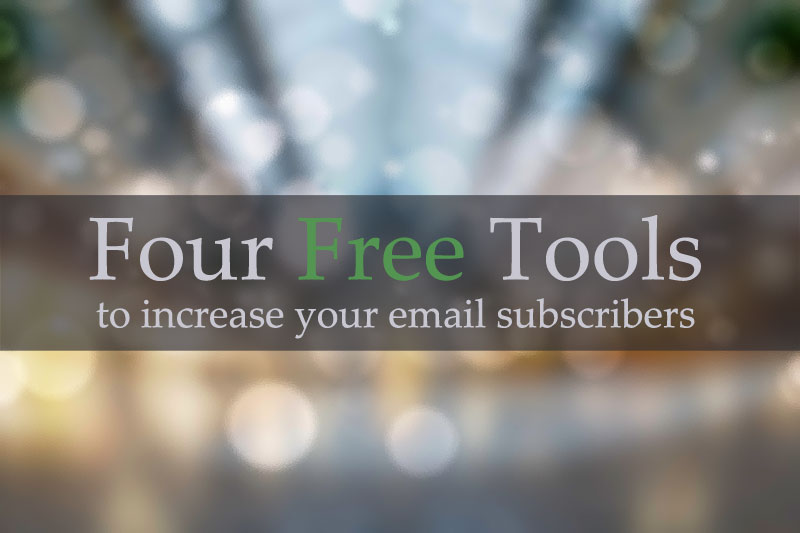 These are the tools that I have been using or I have used at least once.
Hello Bar
Hellobar is a free tool that has been widely used to collect emails in your blog or website. It is attention grabbing, nicely designed full width tool which appears in top of websites to gain visitor's attention.
This tool could be used to promote anything in your website and increase conversions, however trading email address by promoting free contents like eBooks helps to increase your email subscriber.
In a nicely written case study from Diythemes about hellobar, they have explained how they increased 1180 email list by the use of this tool.
They also explained the promotions such as free eBooks or webinars related to niche generated 28% more clicks than a direct message which asked visitors for subscriptions. The clicks resulted more conversions, resulting increase in email subscribers.
The Email Bar : The email bar in the hello bar are designed specifically to increase the email subscribers your list. While hello bar is used to promote specific page and could be used to promote any landing page, the email bar is specifically used to improve your subscriber's list.
Email bar could be integrated will all popular email marketing services and could drastically improve your performance.
The use of Hellobar could be seen on quickspout itself as Neil Patel is the founder of this easy to use tool.
Sticky Sidebar Widget
You may have already noticed by now that when ever you scroll down through my blog, you will see a sidebar widget sticks to get your attention.
I have used opt in offers to increase my subscriber list in the sidebar and by the use of fixed positioning, I have been able to get 25% hike in my email subscription.
Q3 Fixed widget is the free wordpress plugin that I use to make a fixed position for my opt-in forms even when you scroll down through the website. This has increased the conversion rates, improving the visibility and effectiveness of the opt-in forms.
While this plugin could stick any of your widget to your sidebar, a properly designed forms could highly increase the visibility, improving your conversions.
JetPack Subscription
Jetpack is by far one of the best wordpress plugin with multi-features for webmasters. It helps to boost your blog's performance with a lot of features and each individual features could be activated from Jetpack settings.
You can go to Jetpack>Settings in your wordpress admin panel and then activate the subscription setting from the list of all available jetpack settings.
This will let the visitors in the blog to subscribe to your blog with a simple check box action. A visitor who goes to the comment section will see the option to follow the blog or the comment while commenting in the blog post.
You can go to the comment section below in this blog post to see it in action.

As seen in the image above, you will see two different options with check boxes, 'notify me of follow-up comments by email' and 'notify me of new posts by email'.
When a user checks on notify me of new post by email, an email will be sent to confirm subscription. Once the email is confirmed, jet pack notifi
(Exactly when I was writing here,we experienced a 7.1 magnitude earthquake here in Nepal, I ran out and I am continuing after.)
So let me continue, once the email is confirmed, jet pack notifies the subscribed user on every new post.
Subscribed users could be seen under Jetpack > Site Stats > Subscriptions. What I usually do is copy the email address and add them to my mailchimp list and remove them from jetpack list. This is because I have my own list in mailchimp where I promote my new posts, so I would like to add it there and send my own customized email instead of automatically generated jetpack notifications.
Sumome List Builder
Sumome is another amazingly effective tool that could be used to increase your email subscribers. It is available both as a wordpress plugin and basic html codes.
You can either install a wordpress plugin or add a line of code to get started with sumome. Once installed, you will see a blue bar that unlocks the power of this tool.
With Sumome, you can perform different type of actions like increasing email list, traffic growth, get website analytics and heat maps, build a custom contact form and many more, however for now, we will be discussing about building email list with this tool.
Sumome is the easiest way to work around to build your email list. You do not need any kind of programming knowledge to get started and withing five minutes from now, you can start collecting email subscriptions.
It incorporates with almost all popular email marketing tools like Aweber, Mail Chimp, Get Response, etc which makes this tool widely acceptable and useful.
Once you install the code and then sign up for the tool, you will be able to log in and install sumome app from the sumome store.
There are different applications available , however specially for email list building, there are three different applications.
These are list Builder, Scroll Box and Smart Bar. The image below shows sumome application store with the apps which helps to increase subscribers and grow the email list.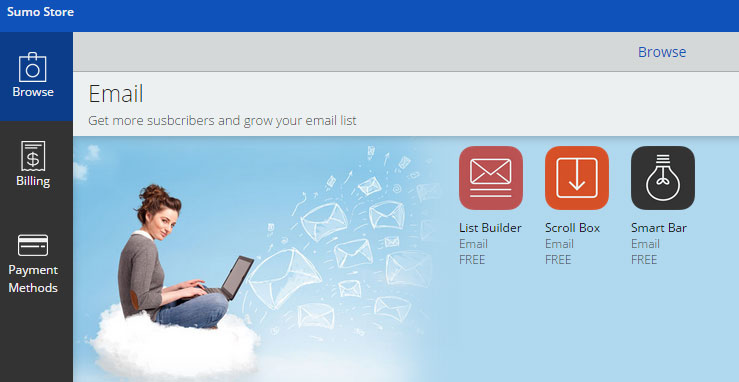 List Builder : This is one of the powerful sumome application to grow your email address and you can get started in minutes. This application helps to collect email list with a pop up form.
Once you install this application, your visitors will be promoted with a pop up. You can offer an attractive approach to get started.
As you can see, I have used the sumome list builder and every unique visitor is asked if they want an eBook on 'How I ranked my new blog in Google in a month'.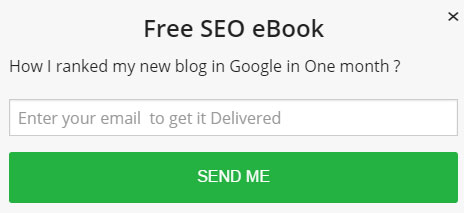 Above image is a popup displayed in my blog with the sumome list builder and is high converting. You can see a blog post from wp101 on how they increased their subscription by 10 times with the use of sumome list builder.
There are wide options to customize this application. The application is very much flexible with design, meaning that you can customize the design to match your blog. Additionally there are wide range of options to improve the performance. You can control on which page/pages you would like to show or block the popup which makes it even more effective.
Scroll box : This application is almost similar to List Builder, however it uses a polite way to ask your readers to subscribe to your blog.
Instead of popping out a form to ask your users to subscribe to the list, scroll box could be used to ask users to subscribe when they finish reading up your posts. Additionally you could also manage a customization setting to show the message when the reader reaches certain portion of the blog post.
The form scrolls up once your readers continue reading your blog post. While popup could be irritating disturbing the reading experience, scroll box appears without affecting the reading experience of the visitors.
Similar to list builder, you could use wide range of design and customization rules to make your application even more effective.
Smart bar : Smart bar is almost similar to the email bar feature of the hellobar. These could be used to promote a bar at the top of your website.
However there are some additional customization features that could be used with the sumome smart bar. Similar to scorll box and list builder customization features, you can also choose specific page/pages where you could enable or disable the smart bar.
Although sumome is available for free, you can always upgrade to the pro to explore some more features. You will have to bear with the brand display of the application with the free version which could only be remove by upgrading to the pro version.
These are the four popular tools that I used. Do you have anything you would like to share? Use the comment box below.