After the great success of Grand Theft Auto 5, Rock Star are looking forward to their next game, Grand Theft Auto 6. There are many rumors out there already about the game but the most astonishing is the GTA 6 map size. It is being said that it might include whole of the USA.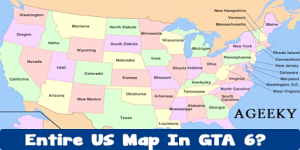 Rock star's Grand Theft Auto franchise is probably the most famous gaming franchise ever. Though gamers may differ on their choice of gaming genre, all the gamers are agreed upon the greatness of this franchise. From shooting to racing and then adventure, all the genres come together and every time it makes a great GTA game.
The rumor that GTA 6 map covering whole USA may seem in-appropriate. It is not an easy job to make whole map of the USA especially for a game. There rumors do not come from a trusted source but gaming circles. It may also seem an effort of some website owners to increase traffic but nothing can be said yet.
There are not any genuine or official statements coming from the Rock Star office concerning GTA 6 map or anything. This is a time of next-gen games and we can expect something big coming from them. The GTA 6 map size could get twice the size of the previous game but full map of USA, nah this doesn't seem possible.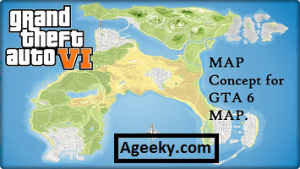 Expected GTA 6 Release Date:
There aren't any reliable sources from where we can know the exact date for the release of GTA 6. Though we can still estimate the release date for GTA 6. Here is a simply assumption.
There was a gap of almost five year between the release of GTA-IV and GTA-V i.e. 2008 to 2013. From this we can estimate that the next GTA game might be coming in 2018? It takes obviously takes a long time to develop such games. With the GTA 6 map rumor, in case it becomes too, then it will obviously take a long time in the making of this master piece.
More GTA 6 rumored features:
As I have already mentioned that there is nothing official that has come straight from the Rock Star office yet there are a big number of rumored features of GTA 6.
Female in the main lead:
For the first time, Grand Theft Auto might feature a female protagonist. All the GTA games before had male protagonists and females always seemed offended by this gender discrimination LOL! So the news is that
Protagonist customization:
For the first time in franchise history, you might be able to customize your own player from the campaign. You will be able to choose body shape, dresses and style for your character.
More amazing Cars:
GTA 6 will be full of amazing cars. Vehicles are include monster trucks, choppers and modern cars. Rock Star claim that this game will have much more for racing lovers.
Customization of houses:
GTA 6 will allow you just not to by houses but you can also customize these houses. In previous games you were able to buy apartments and there being used for saving the game, GTA 5 had better house job thou. Buying big houses and making them further beautiful will attract more buyers.
Location of GTA 6 map rumored:
Grand thefts must be excited about the new location for the GTA 6 map. Strong rumors are that the game is going to set in New York, which already is a very big city and Rock Star don't have to go through the difficulty of making a big GTA 6 map size.
Well this was all for the information we have on upcoming Grand theft Auto 6, GTA 6 map and other features. We will know how the game looks like when the final product arrives. One thing is sure that will be even more amazing GTA game, which we always expect from Rock Star.