Now with the smartphone market at an all time high with so many apps flocking the Android market it would have been great if you would have the ability to make a new app of your own. But with so many coding and programming involved you find it really hard to crack up an app of your own. There are some apps which are absolutely free of cost and some apps come with a price tag. The price involved in the app is not that high but still some apps attach a price after it let the users use it free of cost for one year. With so much happening in the apps world you can also be a part of it as now you can make apps without having the knowledge of coding.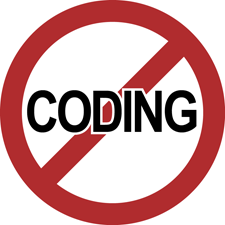 Not a technical person !!
There are many like you who come from different educational background and are not able to follow technical things. But so what, everybody likes to explore and this is what is important. So if you want to explore this new world then come along and don't get scared of coding as the process involved in making apps doesn't require any coding. This method has encouraged people from all across to try their hand in creating apps for themselves and for others too.
Creating an app!
In order to create an app yourself without any coding you will need to take the help of a tool. In this case you can seek help from Buzztouch or any other tool but the only thing is that it will only help you in creating the app but the exporting needs to be done by you. Here are the steps that you can follow –
First register with Buzztouch website for free
You will require text, image, PDF and audio files
Now create a name for your website
Add a professional logo and when the step is completed the simulation will show you the result whether you have successfully completed the step
In the control panel add homepage image and some information which will be like the introduction to the app
You will find "manage this app's menus and screens" , click on it and you will get a scroll down of tools available for creating your app
If you want to create a RSS feed app then click on RSS Reader from the scroll down and it gets added to your home screen menu
Apart from RSS feed you will also get various other tools fun quiz, PDF doc, etc.
Create the content of your app in highly professional
In the meanwhile Buzztouch will take care of the coding part and you will find the coding in your computer with your app's name and extension xcodeproj
Click on the button which says Run in Xcode and simulator will open up
There are various tools present in the market which can help you in preparing your app without any coding or any intricate technicalities. You have to be used to the process involved in creating app then you will find it easy to follow the steps otherwise it might seem complicated to you. So you do the creative part of updating content, logo and texts while the coding is taken care of by Buzztouch.