The Concept of SEO has been beyond backlinks and there are different things that helps you rank your website. Google algorithms are not know and all we could do is to experiment with things and get to know what works and what does not. However for the good, it is not only us who wonders about SEO. There are many SEO gurus who have been wondering about the on-goings in current SEO updates. The world changes and adapts, so does the Google algorithm.
This is why there are different things that matters in SEO in today's practice. One of the main practice is Usuage metrics. According to Moz, two Usuage metrics are so much important for rankings. These are the Click through rates and usage time. Click through rates are generally  how often your website is clicked on searches. If you are familiar with Google adwords, you would know by now that ads with better clicks are the one with better rankings and lower costs. Similarly organic search results in Google search with higher click through rates often enjoy better rankings.
Beside Click Through rates, dwell time is also regarded as one of the important metrics that have been used as ranking signal. Dwell Time was first mentioned in a blog article in Bing , which explained that search engines could get the sense of quality content with the help of a metrics which was mentioned as dwell time.
Dwell rate, in fact is a mixture of bounce rate and time-on-site metrics. Search engines measures how long a user takes to return back to the search engine results once when a link is clicked through a search result.
Assuming that a user clicks back very soon after arriving to a search result(your dwell time is too low), you would certainly suffer downturn in your ranking.
How PandaBot Comes into Action ?
Although after many recent updates, backlinks are one of the major signals for SEO, and there are different ways to attract a quality backlinks, Usage metrics plays a vital role for SEO.
Speaking so much about the usage metrics so far in the blog post, Pandabot is certainly something that helps to improve the usage metrics which assists to improve your rankings.
There has been many blog posts on the internet that speaks about getting into rank without a single backlink but with a proper and positive usuage metrics. Pandabot network is something that does this for you artificially to improve your dwell time as well as click through rate, as a whole improving the usage metrics to trace a positive impact for your website in search engines.
Pandabot is a free system to use and it could be used to improve your website or YouTube video performances. Basically the system works on time credit basis where you will have to but time credits or earn time for free by browsing other's campaign.
All you need to do is install Panda browser and set up search or social media campaigns through Panda Bot networks.
Once the campaign is set up, other users with panda bot browsers will search your keywords, click on your links, share your contents socially , depending on the type of the advertisement campaigns you set up. This will improve the usage metrics of your website, hence improving your performance in search engine results.
The amount of clicks, searches and time on your campaign depends on the time you spend on other's campaign through the pandabot browser.
PandaBot Tutorial
You could start different campaigns on PandaBot depending on your needs. Basically, it does following things for you :
Search Campaigns – It would search for your keywords, click on them and improve your dwell time.
Competitor Backbite – It would search for your competitor's website through a search keyword, click on it and immediately go back, with an aim to increase bounce rate and have negative usage metrics.
 Video Views – Beside website clicks, it would also improve the view and view time on your video, improving their organic rankings.
Social Campaigns – Helps you to get likes, shares and comments on your links improving your social signals.
Since these tasks are done with the help of realtime environment. As you will be browsing some one else's campaign, some one else would be browsing for you. These are not bot but real human traffic which makes it look natural for Google.
Setting up a normal campaign
Before getting started, you need to make a free membership registration. You could go to this Pandabot link and sign up. The link is my referral link and any purchase you make on pandabot later will make me 30% of that. However I do not ask to use the referral link. You could always go directly and sign up.

Once after signing up, you could download the PandaBot smart browser, set your username, password and preferences under Tools > Panda Smart Browser settings.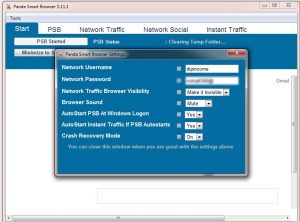 After you set up the smart browser with your login credentials and set up preferences, you could 'start panda smart browser' . The smart browser will now run without any human interference and you could start earning credits which could be used later in your own campaigns.
Setting up and Starting a new Campaign
A new campaign could be easily started through pandabot back office page. Through your membership dashboard, click on back office link through Active resources section and login. Username is your username you set up and zip code acts as password, use your zip code in order t get access to the back office.
After logging in to the back office, you need to add your website. A normal campaign could be set up easily through settings menu where you need to go to website profile under promote your website and add a website. After adding a website, you need to add a keyword in similar way, this keyword will be used later in traffic campaign.
After setting up a website URL and and keyword, create a new Website traffic campaign. This could be created from promote your website >website traffic campaigns.
Click on create a new website traffic campaign and fill up the form. The keyword and URL you add earlier will be available on the drop down list. You could choose from among the keywords and url that you have added earlier.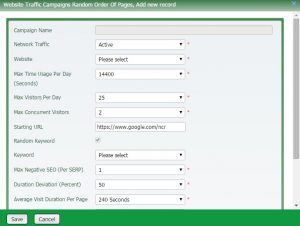 You could create a traffic campaign as shown in the image above.
Beside a normal website campaign, you could also boost your YouTube video views through YouTube campaigns. Similarly you could also set up social campaigns in order to boost your social signals.
Apart from backlinks, social signals and positive usage metrics plays an essential role on ranking a new website.
Case Studies with Pandabot
After a little research, you could find out many positive case studies with Pandabot. Adi has explained how he went from 20 to 100 search engine visitors in a 65000 per month search keyword without generating backlinks, with the help of pandabot.
Similarly Yaro from residualincomer.com has produced a case study with pandabot where he has explained how he went from 47 visits to 173 visitors with the use of pandabot SEO service. He has explained how he went from 99 (tenth page) to 28th (third page) with the proper use of positive usage metrics from pandabot.
I have not used pandabot efficiently so far, however I will be experimenting this free service with some of my new niche projects. I will try them without backlinks, with a combination of backlinks and share the case study results in near future.
Conclusion – Would I use this SEO service ?
Pandabot is certainly great tool to use, however honestly it is not a genuine factor to improve your search engine metrics. There are many case studies and pandabot reviews which explains great impact of pandabot, however this is manipulation on SEO and Google may now or later certainly take charges to reduce its use.
As I have already stated before in my website that I would not risk anything with fake SEO tactics with dipincome.com, I would certainly try this service with my new niche projects.
Have you had any experience with Pandabot ? Please place your comments and reviews.