There are rules and there are ways to break them! As an iPhone user, you're always bound by some. Be it for security reasons, malware threats or just as an arbitrary decision; iPhone users are compelled by certain software and technical restrictions. These could be both network and software based. In order to understand the kind of restrictions you're constrained by, you should be aware of market trends and other available Smartphones.
Apple, the manufacturer of iPhone, rules the digital mobile phone market. Both in terms of features and experience, iPhone has captured numerous hearts. Its seamless operating system, great touch screen experience and several other offerings make it an unquestionable market leader. But Apple hasn't been able to stand out just so easily. Efforts in the form of cutting-edge innovation and monopolistic business strategies have made it an undefeated market ruler.
The two things that have kept Apple clientele happy is great usage experience and lifetime freedom from malware and viruses. Almost no Apple user reports about a phone-hang issue or virus threats – though a rare case is always possible.
Let's now get down to the two concepts through which Apple makes its users friendly to only specific applications, software and network services. iPhones are usually locked for use with specific network services. In addition, they are also only compatible with Apple's own software and restrict use of outside applications. This means users are bound to use services of a specific network, as well as software authorized only from Apple.
So iPhones are curtailed to a network-based and software-based lock. And the respective ways to break them are Unlocking and Jailbreaking.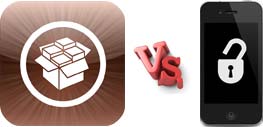 Unlocking
Unlocking is the process of freeing up your iPhone for use with any network connection. This is a simple and quick process that requires you to have a uniquely identified 16-digit unlock code. Users of iPhone need to know their device's IMEI number if they want to unlock it.
Now if you've decided to get the phone unlocked, find a reputable cell phone unlocking agency online. These agencies offer unlock codes online after you submit your IMEI number, current network name and your email ID. Once you provide these details in your order and confirm the payment, you shortly receive the unlock code on your email.
This unlock-code makes your phone compatible with all SIM cards worldwide. So when you change the SIM to a new one, enter the code received on your email ID and your phone will be ready to use.
Jailbreaking
Jailbreaking, on the other hand, is the technical process of making your iPhone compatible with any other software not authorized by Apple. It is a way of removing Apple's inbuilt restrictions so that users can enjoy software and downloads from sources not authorized by Apple.
To break Apple's factory-installed operating system, JailbreakMe is one of the most popular techniques used for the purpose. A team of developers, not affiliated to Apple, have introduced several versions of JailbreakMe. This is a series of system used to take advantage of the flaws existing in Apple's Safari browser.
JailbreakMe facilitates one-step jailbreaking, something that makes the process quick and easier. Other systems like 'redsn0w' and 'Blackra1n' require more time as they need the user to connect the device with another computer so that jailbreaking software can be run from the desktop. JailbreakMe 1.0, JailbreakMe 2.0 Star and JailbreakMe 3.0 Saffron are the three versions launched till date.
While developers constantly try to break the restrictions placed by Apple, the latter continues releasing upgraded software versions that patch the flaws use by JailbreakMe.