Aldiko Book Reader is quite a decent Android application available on Google Playstore. We have the working download link for Aldiko APK as well you can find it at the bottom of the post. As per official description of Aldiko APK on Google Play store, there are 28 million + people  using this app through out the world.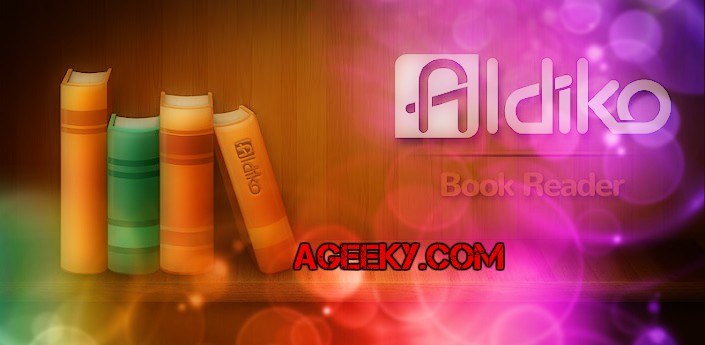 Aldiko Premium APK:
Differences between the Aldiko Book Reader Premium and the Aldiko Book Reader Free are: the Aldiko Book Reader Premium has highlights (for EPUB files), notes (for EPUB files), book cover editing and home widget features, gets faster update and does not contain advertisements. – As per official description of the App on Google Play.
Some Cool Highlights of Aldiko APK Ebook Reader:
Support EPUB, PDF formats as well as Adobe DRM encrypted eBooks:
EPUB:
EPBU is an acronym for Electronic Publication. File types having the extension .epub. EPUB is ideal for reflowable content, which means that an EPUB reader app such as Aldiko book reader can optimize text for a specific display device. EPUB or ePUB was first officially opted by IDPF in September 2007, dumping all the older formats.
PDF:
PDF stands for Portable Document Format. PDF is a type of file format containing all the captured elements of any printed document as an electronic view-able image that can be navigated,  printed, or shared. PDF files can be created easily by simply using Adobe Acrobat  Acrobat Capture, or many online converters. You can even convert a word, excel, image file etc to a PDF format. Many of the online books now a days can be found in the PDF format.
DRM: 
DRM stands for Digital Rights Management which actually means "copy protection", "technical protection measures", "copy prevention", or "copy control". By using Aldiko Book reader you can even use ADOBE DRM encrypted electronic books.
Support eBooks from public libraries:
This app also supports eBook from various public libraries. Here is a list of few public libraries.
OverDrive eBooks
Zinio eMagzines
Hoopla
Naxos
Safari Tech & Business Books Online
MaBiblioNumérique (French eBooks)
OneClickdigital eAudiobooks
Customize the reading experience on your finger tips:
You can easily adjust the font size as per your own test whether it is too big or too short, you can change the font type as well on the app to make the reading look more eye candy, moreover, the font and background colors can be changed too, margin, alignment, line spacing along with the brightness  up to your personal measures for unmatched reading experience. There is night reading mode too in case you love to read in dim light at night.
A User friendly interface – Lets you hover any where via the table of contents and bookmark any page easily:
Aldiko eBook reader sports a user friendly interface for both android smartphones and tablets. You can adjust the reading experience easily. The app also have an easy bookmarking feature, and the cool jump to any section via the table of contents feature is there so no more scrolling down like many of the other eBook readers.
Advanced library management system:
Import your own personal EPUB and also PDF files into the app to read them on the go; arrange your very own eBooks by tags and collections. Aldiko will even take note of your reading left over automatically, and enable you to return back to where you left off reading.
Good in application shopping experience:
Although many of the catalogs of eBooks are free but you can also get your hands on the best sellers, classics or trending catalogs via an easy in app shopping experience.
Global-Text search:
You can search for a text or phrase in a book to get to your desired result easily.
A support for  Open Publication Distribution System (OPDS):
You can read about OPDS here.
Say no to duplicate books while import:
Aldiko make sure not to duplicate books while importing them. It also allows you to delete the original files during the import.
Low system requirements:
You can run the app on even low end android devices. The minimum OS required for the app is 2.3 Gingerbread and now a days majority of the devices are running on 4.4 KitKat and 5.0 Lollipop.
Aldiko APK Free Download:
You can download Aldiko APK via the following links.
As the APK files are in .rar format so you will need an extractor app on your phone to extract the data and install the app.
Here are the few good extractor apps for your android phone / tablet.
Alternatives to Aldiko eBook reader:
Following are a few good eBook readers and alternative to Aldiko.
iBooks
Google Play Books
Amazon Kindle
Calibre
Scribd
GoodReader
Moon+ Reader
EPUBReader
AlReader
EPUBReader
Very Popular Aldiko Books:
For you ease we have a listing of some of the most popular Aldiko Books.
The Great Gatsby (Paperback)
Heart of Atlantis (Warriors of Poseidon, #8)
White Fang (Paperback)
The Book Thief (Hardcover)
The Fault in Our Stars (Hardcover)
The Girl with the Dragon Tattoo (Millennium, #1)
Fifty Shades of Grey (Fifty Shades, #1)
Rodrick Rules (Diary of a Wimpy Kid, #2)
Hamlet (Paperback)
City of Glass (The Mortal Instruments, #3)
Hamlet (Paperback)
The Invisible Man (Paperback)
The Girl Who Kicked the Hornet's Nest (Millennium, #3)
I Am Number Four (Lorien Legacies, #1)
The Exception
Against the Rules (Mass Market Paperback)
Overload (Hardcover)
A Thousand Nights (Hardcover)
Waltz of the Sugar Plum Fairy Godmother (Once Upon a Time Travel Book 5)
Hollow City (Miss Peregrine's Peculiar Children, #2)
2BR02B (Kindle Edition)
The Deal (Off-Campus, #1)
Cheaters Anonymous (Cheaters, #1)
Loving Mr. Daniels (Kindle Edition)
The Miniaturist (Hardcover)
Credit for the list Goodreads.
Conclusion:
Here is all about Aldiko eBook reader which you wanted to know. If you have some kind of difficulties or queries regarding the app you can just drop a comment for us below. Moreover, if you have a request for some other app you drop it too in the comment section.