In the infinite universe of mobile phone games, there are very few that created their own legacy. Many games are being downloaded, played and then uninstalled but the game which I am going to talk about today is not the same. Honestly every person I have met with a smart phone has this game on his/her mobile. What makes this game so special that people regardless of what their age is, they are fond of this game. In this article we are going to talk on the features of Subway Surfer and you will also be able to download Subway Surfers Mod APK at the end of this post.
Subway Surfers is an endless running or you can say in programming language that it is a continuous loop game. It is available on all the major mobile platforms including Android, IOS, Windows Phone and iPods. It is also available to download and play on PC and guess what, it is all free. It is a co-presentation of KILOO and SYBO Games which are mobile phone game developers residing in Denmark. The game got released in 24th May 2012 and each day it is getting more and more popular.
Subway Surfers Gameplay:
In Subway Surfers, your main protagonist is a little boy who gets chased in an endless run by a fat police officer. When game will start, police chase after this boy will start and within few seconds if you don't get hit here or there, you will leave him behind and a not ending run will begin.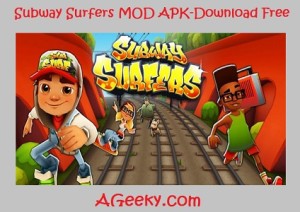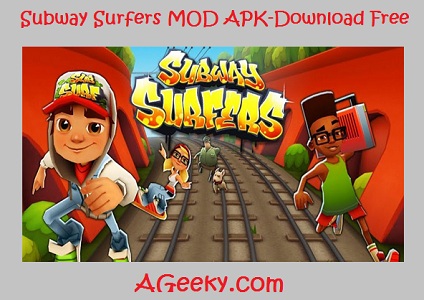 Well that was just a premise and now let us tell you how the gameplay of game really is. It is not necessary to have this boy as your role but you can also buy or unlock other characters in the store. That could be a dinosaur, a girl and many more. Your character keeps running, avoid incoming trains and other obstacles making his way forward. As the time progresses in game, speed of the incoming trains and obstacles will increase and they will come with more speed at you. Keep avoiding hitting them and making your way forward. On your way you will have to pick up the coins that are further used in game to do upgrades and unlocks. The more you collect them the more you get better in game.
While on your run, you will come across several different items and each item has its own unique job. Picking up boots will make you jump higher and faster. Then comes the magnets. By taking magnets you won't have to change the lanes to pick up the coins. If you are on an easy lane and you have magnet power then coins from other lanes will automatically attract towards your magnet. Taking rockets and boosters will take you high in the sky and you can collect coins without the tension of being hit by the obstacles or trains. Then the combinations of these items are more awesome. Taking magnet and a rocket at the same time gives you advantages of having all the coins while avoiding obstacles at the same time. Once you get by an obstacles or train, the game ends. But if you have collected keys on your run then it gives you an extra life.
Connect your game to internet and make place on leaderboards. Play more and more to compete with your friends on Facebook's Subway Surfers leaderboards and all other players around the world. Make sure that first you play alone while internet disconnected and making more and more unlocks to have a strong position at the leaderboards afterwards.
Subway Surfers Controls instructions:
In Subway Surfers, the controls are very easy but need very quick and responsive mind. When the game gets faster, then you will need to do very quick moves to get yourself out of trouble. While controls are very easy and all you've got to do is swap the screen of your mobile in any direction you want to move. To make a jump sway upwards, to slide sway downwards and the rest you understand. The better phone you have, better player you will become because smooth touch of the screen is a key factor to play this game.
Latest Subway Surfers Mod 1.52.0 Features:
Well above written is not all about this game. There is still many things that you need to know. As I told you that you have to pick up coins and keys to unlock things and become better in game. But that requires months of gameplay to become so good and lazy ones like myself can't count on that. So for people like me and you reading about this mod need a shortcut. And this is where the mods come handy.
In this latest mod v1.52.0 of the Subway Surfers you can have many things to ease down your experience. Game will become a child's play for you and you can easily top the leaderboards. Are you curious that what are new features of this mod? Let's find out.
This Subway Surfers Mod v1.52.0 gives you unlimited coins. Now you can unlock everything in the game and use it to your advantage. Buy characters, hover boards, and many other powers to become unstoppable in the Subway Surfers leaderboards.
As I told you that keys are like extra lives in the game. What if you have unlimited keys? Of course then you will become immortal. Every time you get hit and game is going to be over, use the keys. You won't need to bother about their count because they are unlimited with this new amazing mode. Install this mode and have an endless run until you get tired or your battery runs out.
This Subway Surfers Mod v1.52.0 also gives you unlimited money and you know Money is Power. Spend as much as money you want to buy amazing new unlocks and upgrades and then there will only be your name on the leaderboards.
Download Latest Subway surfers version 1.54.0 apk:
You can download the latest apk of this game i.e subway surfer apk v1.54.0 from our server here.
Download Subway Surfers Mod APK v1.52.0:
You can download the Subway Surfer Mod APK v1.52.0 from here.
Download Subway Surfer Latest Mod APK v 1.54.0:
You can download the latest MOD Version of this game i.e subway surfers mod apk v1.54.0 from our server here.
If you want to download this game in your android device, Here is Subway Surfers play store link.