Puzzle games like Candy Crush Saga inspired many other developers to produce such games. There are a lot of game developers working out on such games. These games are in plenty and each of them has its own unique game modes. Obviously, it is not possible for everyone to play each game. But, you can definitely look one of your choices by searching about its game modes etc. One of those many games, one is Charm King. There is a free Charm King APK available for download at the end of this post. First, let us introduce to this game.
Charm King is an android puzzle game that works on the same model as Candy Crush. You will need to pile up 3 same tiles in a vertical, horizontal or diagonal order to earn points. Let's talk about more in the feature review of Charm King APK below.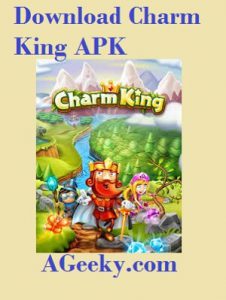 Charm King APK Featured Review:
Charm King is a beautiful puzzle game that works on the game mode as candy crush. In this game, you will need to arrange the charms of the same kind in particular orders to each point.  These points will bring you more rewards as you pass through each level. Once you finish off all the tiles in a level, a new level will start. You will need to arrange the tiles in a particular order to blow them off. Order include vertical, horizontal, and diagonal just like it many other puzzle games. With each level the difficulty of the game increases. You will become better and better with time. The game needs a lot of practice to do it better. You can become the ultimate charm king by beating your friends in the score and level. There is a lot you will know about this game ahead.
Charm King APK is absolutely free to play and you don't need to pay for any of its version. This game has everything that you would like from a puzzle game. You have got an amazing level to play. The game has even beautiful graphics you keep your heart enchanted while playing it. You can compete with your friends by connecting to online scoreboards. See how your friends are doing and then work enough to reach them. Beat them by achieving more levels and points. By earning points you can buy amazing upgrades. There are a lot of boosts, gems and other things to make your game progress even better. Beautiful graphics for an android game really are a blessing and this game has them. There are lots of regions to unlock and charms to use them in gameplay.
Some Other Game modes of Charm King:
Here are some other features of the game you need to know.
You can buy amazing boosts and XP as you pass through new levels.
There are lots of amazing places to play on as you progress through each level.
Win a bonus as you pass the level with lesser timing and great speed.
Upgrading to the latest summer edition will bring you more than you ever seen. There will be 15 new amazing levels, Gold and a lot of boosts.
So what are you waiting for? Catch this amazing puzzle by downloading the free Charm King APK right now from the page. Stay tuned to AGEEKY for more APKs and Tech Guides!
You can download the latest version apk file of Charm king below: