There are plenty of mobile browser apps on the play store that are being used by people by every one of them lack something in them. Today am going to tell you something about the fastest and most complete internet browser for your phone which Puffin Browser.
Puffin browser is a web browser for Android which is smart, fast and beautiful and makes your browsing experience better than ever. Though people might not consider it to the level of browsers like Google Chrome, they are those who haven't gave this a shot.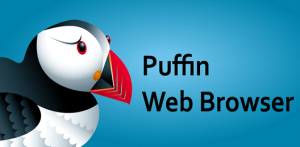 Features of puffin browser:
Puffin browser has following distinguishing features:
It has smart search tags than most browsers. Appearance is something people really adore and they prefer the apps that have better themes and tags because that is something that make people enjoy their apps.
Most mobile browser really make users sick because of the slow and low quality flash players for video streaming. Same is not the case with Puffin, it provides its users with best quality flash player where people can stream and watch their favorite videos on Facebook and You Tube without and lags and crashes provided that you have a good internet connection LOL!
Speed of this browser that could really make you go crazy about it. The software version is so light that you can browse through even the heaviest pages with ease and grace. And that's a thing I would really want in my browser because I am not the one who want to stay stick the loading pages and I bet you're the same kind too.
Brand new interface is another amazing features of this app.
Not to forget about the Download-to-Cloud feature which is also a part of this marvelous app.
It also support all the Add-ons so I think these features are enough for a good quality mobile browser to have and you might want to go for this after reading all that.
Download puffin browser free apk:
You can download puffin browser apk totally free of cost here.
Play store link.