Lenovo was one of the first company to build a hybrid laptop with several modes and named it as Yoga Tablet as it has also got a magazine like design which now the many manufacturers have used the same kind of thinking and technology to its tablets resulting in Yoga tablet with support for several diverse roles. The two tablets are called Yoga 8 and Yoga 10 depending upon their display size. Both sizes of the Yoga Tablet have 1,280 x 800 pixels resolution, quad-core processors from MediaTek, and 16 gigabytes of internal memory with MicroSD expansion options. There's also a five megapixel rear camera and a front-facing 1.6 megapixel camera.
The lozenges also provide multiple ways because of the cylinder at one side.. It offers better handling enabling users to handle the tablet comfortably with one hand just like a magazine. It also serves as a stand after a rotation of 90 degrees for stand mode. The viewing angles can also be changed between 110° and 135°. Lastly, it has a tilt mode which allows users to lay down the tablets on a surface and makes it useful for playing games or typing or web browsing. The tablet comes with an auto-detection software which can bring frequently used apps based on the way the tablet is being utilized.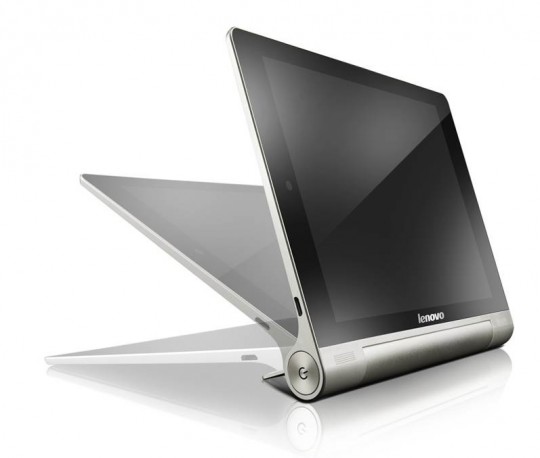 Lenovo Yoga Tablet Specifications
It comes with quad-core 1.2 GHz MediaTek MT8125 Processor (MT8389 for the 3G variant)
Memory/Storage: 1 GB LP-DDR2 RAM; 16 GB internal memory and MicroSD support up to 64 GB
Display: 10-inch and 8-inch multitouch with 1,280 X 800 pixels and 178 degree viewing angles
Cameras: 1.6 MP HD webcam and 5 MP rear-facing
Connectivity: WiFi 802.11 b/g/n, micro USB, Bluetooth 4.0, micro SIM slot (3G variant only)
Audio: Front facing stereo speakers and built-in noise cancelling microphone
Operating system: Android 4.2 Jelly Bean
Weight: 1.35 pounds (10") and 0.88 pounds (8")
Dimensions: 10.3 x 7.1 x 0.32 inches and 8.4 x 5.7 x 0.29 inches
Battery/Autonomy: 9,000 mAh and 6,000 mAh, up to 18 hours of battery life in reading mode
Price: $299 for 10 inch version and $249 for 8 inch
Conclusion
With its outstanding features and user friendly in nature very quickly this device will be in the hands of every other guy. And its price is also very affordable for the consumers which gives it a plus point. So waiting for this device? Then go grab it before your friends do and be proud of yourself by having an amazing yoga tablet guys.