Finally one of the finest series that gaming industry has ever seen, Metal Gear Solid came to an end with the last installment Phantom Pain.
Metal Gear Solid 5:
The Phantom Pain is a third person action-adventure game developed by Kojima productions set out in open world. It is the fifth major game in the series.
If you're a stealth lover then you're surely going to love this since the game provides players with a large variety of gadgets, mechanics and various inter connected systems that allow the player to reach the objective easily with multiples ways.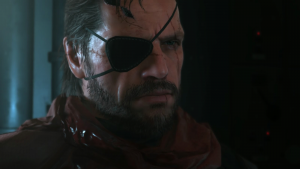 Plot:
The game features protagonist Punished "Venom" Snake, who breaks in to Afghanistan to avenge his forces and hisself being got to close to being killed.
Gameplay:
The game is more favorable being played in stealth by avoiding enemy guards and remain undetected using different stealth techniques to execute enemies. Snake's trusted gadgets include maps, pistols, assault rifles, pistols, binoculars and explosives. Players are able to travel distances by cars, tanks and horses. You can develop your own weapons and other items as game allows you to create your home base. Enemy has also become more prepared and if you'll think of using the game technique every time, you will find enemies taking precaution on it so try not to go with the same killing over and over again.
Graphics of Metal Gear Solid 5: The Phantom Pain:
Being a next-gen game, The Phantom Pain has escalating graphics using amazing Nvidia technologies such as HBAO+, volumetric fog, Nvidia physX, 4k and and other game works. Using all these technologies the game looks so beautiful being optimized very well by Nvidia, giving players a hell of more entertaining environment with smooth game play.
Though this is last game in the series, it will be remembered for years being one of the most amazing game series and for that every gamer would like to say, Thank you Hideo Kojima.