The next week should bring us two very interesting devices from China – Huawei P9 and OnePlus 3. The first of these is said to be very much mind blowing in terms of look and performance, and finally there is also an opportunity to mention the second as the OnePlus 3 has been tested in AnTuTu, so we got to know the key elements of its specification.
OnePlus 3 tested in AnTuTu – Snapdragon 820 processor and 4GB RAM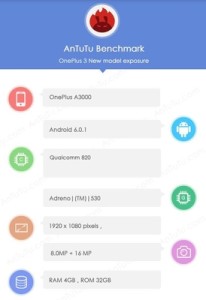 In light of the disclosure you should expect very high performance offered by Snapdragon 820 processor with Adreno 530 graphics and 4GB of RAM. The new device will run Android 6.0.1 out of the box, but the manufacturer will probably modify it,we are talking about the OxygenOS.
As for the screen, it is characterized by a resolution of 1080 x 1920 pixels and a diagonal of 5.5 inches likely. In addition, the smartphone should also offer camera 16 megapixels primary, 8 megapixels front camera and a 32 GB internal memory.
So when the official premiere will take place? A lot of sources suggested the date on April 7, but still we don't have officials' words on it. Some of the folks from the company confirmed indeed that the plans are for that day, but "The April 7 event is focused on the China market. We will not be launching our next device then." they said.