Hello everyone,
It has been quite a long now that I have not updated the blog, but I promise I will come up with new and useful blog post very soon and will be updating the blog regularly as before.
Actually I have been busy on setting up different projects including some mobile applications and some experiments which I will certainly be sharing with you guys in a near future.
Currently I am working on three mobile application projects and few internet marketing projects and few websites and the results have been overwhelming which I will certainly share for sure. One of my website is doing very good, it is a news website and from the very beginning making an average traffic of 3000 a day. Its been a month now that I have started that website and I already served over 1,00,000 visitors in this time.
Additionally one of my mobile application is making an average of 20$ a day, which is a great start because I have just stepped into mobile applications. I am planning to work with few more mobile applications projects and I will share all my experiences at time to come.
However for now, I would like to introduce you all with my new project, Friendlylogo.com
Eco Friendly logo Design
My company Orange Tech has started a new project where we have initiated an idea with an environment friendly logo design concept. On our logo design service, Friendly Logo , we provide affordable logo designing service and we came up with an initiative to make this project green and eco-friendly.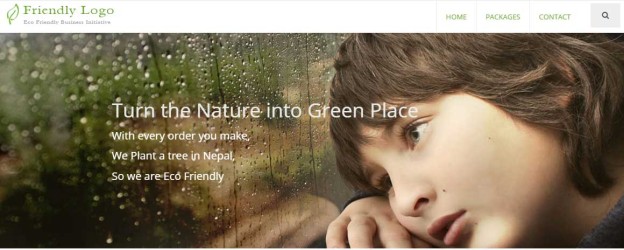 If you visit the website, you will notice that we have three packages for logo designing, starter package which starts with $15 plan, the medium package for $25 and the premium one for $55. What we do is, with any of this package, we offer to plant a tree in Nepal in the buyer's name. This means we will be planting a tree here in Nepal for every package which is purchased through the eco friendly plan. This way we are contributing our effort to build a green and clean environment.
Although the plan is currently withing Nepal, because this is the only country within our reach, this is our home country, if everything goes well and if we succeed in our marketing efforts and if this concept is loved, we will certainly expand this service and plant trees in different parts of the world.
Currently we just have started this concept with the logo design service, however beside logo design, we also have a dedicated website for website designing and internet marketing concept and we will expand this offer to all our other services if this is loved.
I hope you all like this concept and I expect for your comments in the comment box below.
Regards,
Dipendra
Google Certified Adwords Manager
Managing Director of Orange tech Pvt Ltd