One of the most common reasons why smart phones became so popular was the innumerable games and applications that they brought for the users. Among thousands of different games, one common category that is played as well as enjoyed by everyone is the racing games. Looking at the popularity and fan following of these racing games, developers have always shown interest in creating new and featured games for all smart phones. Particularly, the Android operating system has a bunch of cool racing games to its credit. These games became favourite among people as soon as they were launched in the market. So below are the top 5 Racing Games for Android.
1. GT Racing 2: The Real Car Exp
Developed by Gameloft, this racing game for Android has some of the most prestigious cars to its credit. You have to choose the best among these magnificent cars and win the race taking place in a life like and innovative environment. Ranked as the richest handheld racing game, GT racing 2 has managed to grab a lot of attention from players from across the world. Some of the high-end cars used in this game are Ferrari, Audi, Bugatti, Nissan, Dodge, Lamborghini, Ford, Mercedes-Benz and many others. On winning each new challenge, you will get the chance to choose a new car. There are around 1400 different events such as knockouts and overtakes among others.
Checkout: Top 5 iPhone Games for Toddlers
2. Drag Racing
Created by Creative Mobile, Drag Racing games for Android enables you to drive some of the most high end cars along with their official license. You will be able to buy your own car and update it from time to time. You also get to show your skills in ½ and ¼ mile races. You will also be able to compete with millions of others players by comparing scores via the leader board. First time ever, you will be able to compete with 9 other racers at the same time while playing in the online mode. Driving along a straight line is not at all easy and Drag Racing proves this. Maintaining a balance between power and grip, it will be challenging to win this game.
3. Hill Climb Racing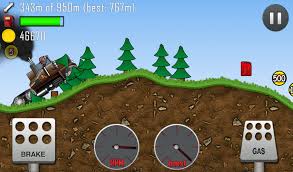 Based on physics, this is a very addictive racing game developed by Fingersoft. Our uphill racer, Newton Bill is on a strange journey of conquering the highest hills on the moon. He is determined to do something that no one has ever tried. You will get many different cars for taking this journey and with each stunt & Trick that you pull out, bonus points will be given. With 14 different levels, this is a really interesting game.
4. CSR Racing
Created by Natural Motion Games Ltd, you have to take part in drag races in deserted streets of a city. It is a highly addictive game due to its impeccable graphics. You will be able to upgrade your car while also competing with millions of other players via the leader board. Precision racing is a must for this racing game.
Checkout: Best Arcade Games for iPhone
5. Fast & Furious 6: The Game
This popular game is developed by Kabam. This racing game takes you through drag & drift racing in the busy London streets. On performing well, you will receive cash and respect from imminent players of this franchise. Join this team for taking on tasks and accomplishing them. Online races and amazing graphics makes this game more interesting.