There is not a single field in app development that has been left void by the developers. Look for anything or in any field regarding daily life and Google Play Store will provide you an app for it. In the same case there are several apps developed for our Androids that enlighten our world when there is dark sometimes. Well before this gets more of a philosophical article, let me tell you that today I am going to tell you about some of the El Major Android Flashlight Apps that you could download and sparkle your dull life.
1. Privacy Flashlight:
The reason I put this on number 1 is that this app is safest and reliable than any other app. This is the safest and lightest flashlight app. This is also for those people who seem much worried about the app permissions but still they want to have the best app on their Android. But good thing is that there aren't any extra or unnecessary permissions. You would only need to use necessary permissions and you are good to go with it.
Also the size of the Privacy Flashlight is so small that those who are short no space won't bother about keeping this app. Now you won't need to wonder around your room searching for your keys or your lost money. Just open the app and there will be light all around and you can easily look for your beloved things. To access LED only, you only need camera and mic permissions while using this app. Also you don't need any other extra permissions such as network or locations. Not to forget, USB storage permissions are another ones that you don't need to worry about while using this app.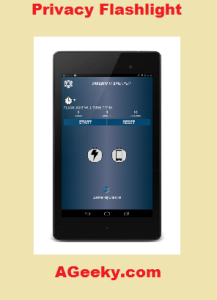 Download Privacy flashlight free:
what are you waiting for? Download the best Android Flashlight app right now from this link.
2. Flashlight from SimGears:
Available with a simple name flashlight, this app is not very simple but very smart Android flashlight app. Considered being one of the best Android flashlight apps, this comes with variety of features and with least permissions. You can easily get the work done without being bothered by useless permissions that are unfortunately part of many apps that are obviously not on our list.
When you need flashlight, just go to your menu and simply tap on it. There are no on/off switches to switch the light on or off. It will lighten up on simply opening the app and you won't be bothered by unimportant permissions. Mentionable permissions that are in this app are control vibration and control flashlight. Some of the other of these permissions include full network access, avoiding device from sleep and take pictures and videos are a part of it. Another cool feature of this Flashlight app is that when you don't need the app, put the phone in your pocket and the app will turn off with necessary sensors in the phone.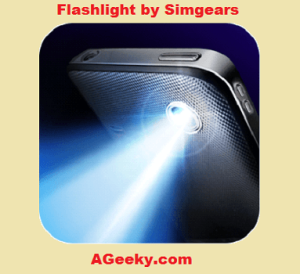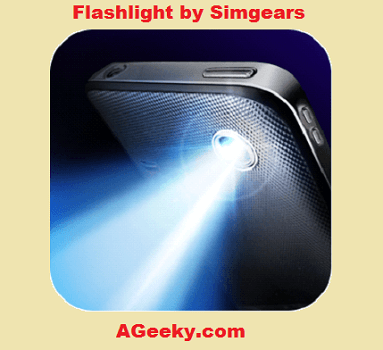 Download Flashlight from Simgears app:
So this was our #2 on the list and if you liked it then download from this link.
3. Color Flashlight:
Do you feel like the world is dark around you? Well if yes then don't worry because this amazing app named Color Flashlight is here to being lights to your world.
Developers of this app are the same who created Color Note app and if you have used that app then you know that you can rely on this flashlight app too. Now not just your Camera flashlight but you can also use your LED to your advantage. This has some really cool LED color effects that brings great brightness from your LED. Also when you use the camera flashlight, it glows the brightest. Hence there will be light all around and you can easily work or find your things if need be.
Another very cool thing about is the very few number of permissions that concerns the users more. And of those very few permissions some are 1. Take pictures and videos. 2. Control flashlight and view connections. And the 3rd one is full network access which is obvious that you have to give that to an app. This app also comes with very small size so you don't need to have mass space on your phone.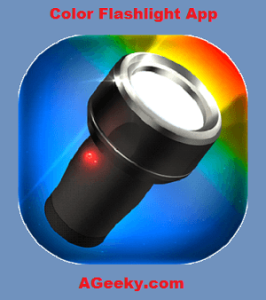 Download Color flashlight free:
If you are pleased to know about this app then download it right now from here.
4. Tiny Flashlight:
Well don't judge this by the name because this is not tiny as it may seem. Tiny + LED flashlight is another cool flashlight app that deserved to be on our list of best Android flashlight apps. You will know the reasons while reading ahead.
Doesn't matter if the oldest, this app is also the most reliable and if you know the quotation Old is Gold. Its only job is not just to make your way while you're in dark but it also has some other things like Morse code, fun police light simulator, blinking lights and strobe light function. A little con is that this app has slightly more permissions than the above mentioned apps. You will need to provide full network permission for ads as well as run at start up permission. Some other permissions in the app includes control flashlight, control vibrations, view connections and take pictures and videos. Still these apps are less as compared to many other apps out there so you can definitely rely on the app.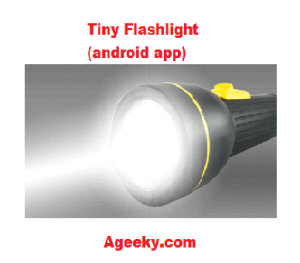 Download tiny flashlight:
If you like to use old things and are impressed by this app then download here.
5. Super-Bright LED flashlight:
Last of our top 5 list is thing Super-Bright LED flashlight. Not just by name but also due to the cool job it does to enlighten your world, this app deserves the name.
Super-Bright LED flashlight has a very simple and easy to use interface. It also has some old features like blinking and strobe lights where are controlled easily by screen swiping. Unlike other apps, developers seemed more concerned about graphics than to focus on other inter-facial features. Maybe this is the reason why I had to put it on last because features are more important than graphics but still appearance matters and that's why it deserved few marks.
Moreover, this doesn't require many permissions. It doesn't ask for your permissions to contacts or location. Some permission that it would obviously require are view network connections, modify system settings, receive data from Internet, change system display settings, control flashlight and take pictures and videos.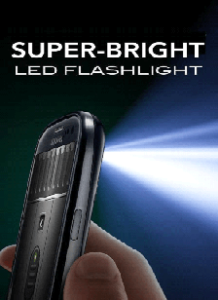 Download Super bright LED Flashlight:
Still if it's beauty that inspires you then you can go for this app and download from this link.
Final Words:
So, this was the list of top android flashlights apps. If you have some other favorite app or want to contribute to the post, do give your suggestions in the comments box below.