The new Blackberry Z10 is all set to launch in the Indian market with its tag line "built to keep you moving". Indian mobile users loved all other high end phones and they will love this phone too. The new Blackberry Z10 comes with latest version of Blackberry OS that can be claimed as one of greatest mobile operating system. This phone is superb in every manner and any one can fall in love with it. If we talk about hardware part of the phone its 4.2 inch touch screen, 8 mega pixel ultimate rear camera, 2 mega pixel front camera, 16 GB internal memory with support of 64 GB expandable memory, 1.5 GHz dual core processor, 2 GB RAM and 1800 mAh battery makes it ultimate in terms of hardware.
The latest Blackberry 10 OS gives extra edge to this phone with great features. Extremely easy multitasking allows you to use apps and feature together, Blackberry hub gives you the liberty to swipe between your messages and conversation without any effort, new blackberry touch screen keyboard make sure you type everything correctly and easily. New BBM is evolved with innovation in Blackberry 10. It is not limited with just chatting and file sharing but it allows you to do face to face video chat, screen sharing and you can even share the view from camera. Another innovation is camera with time shift mode so after clicking you can adjust your photos with millisecond before and after to make perfect photos.
Other than this many other existing features are also enhanced that all makes you fall in love with new blackberry z10. The cost of this phone in Indian market is expected to be less than 40000 INR.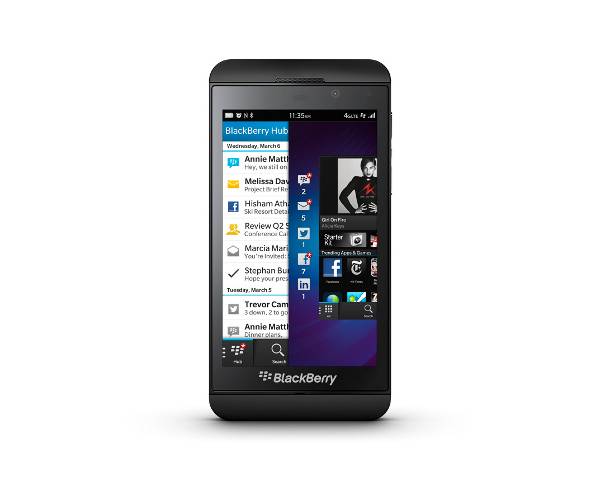 Blackberry Z10 Specifications:
Screen:
It has a 4.2 inch touch screen with multi touch support and screen resolution of 1280 x 768 with 356 ppi pixel density that gives sharpest picture quality on this mobile screen.
Performance:
Blackberry z10 is powered by 1.5 GHz dual core processor with 2 GB of RAM that gives enough power to run many applications simultaneously without any problem. With this hardware configuration you can run any movie or play any game on it and if you want you can connect it with HDMI TV also to watch movies. Its 1800 mAh battery is expected to give 10 hour battery life on 3G network that is extremely good.
Camera:
Its 8 mega pixel rear camera gives you ultimate picture with innovative time shift mode that let you adjust your picture by few milliseconds. This rear camera supports 1080 p full HD video recording. Blackberry Z10 also have a 2 megapixels front camera that gives you sharper and clearer video calling as well as 720 p HD video recording that is not available in many other phones.
Storage:
Blackberry Z10 got 16 GB Internal memory and it support 64 GB external micro SD card also so you will have upto 76 GB storage capacity in your phone, so store movies, songs, games or anything that you want.
Connectivity:
Blackberry Z10 supports almost every form of connectivity that includes Wi-Fi, 3G, HDMI, Bluetooth 4.0 and GPS with A-GPS support.
Operating System:
This phone support latest blackberry 10 OS that is one of best mobile operating system with several new innovative features.
Price:
Price details for Blackberry Z10 are still not known for Indian market but it is expected to be launched for under 40000 INR.
Availability:
This phone will be launched in India on February 25. 2013, after that you can order it from online stores on same day or you can even purchase from any blackberry story within few days of launching.