At an event in New Delhi, Samsung announced its new range of smart feature phones under the name "Rex Series". The Samsung Rex series include four phones namely Rex 90, Rex 80, Rex 70 and Rex 60.
All the four phones comes equipped with a 1000 mAh battery and pre-installed social applications such as facebook, twitter, chatON and G-talk.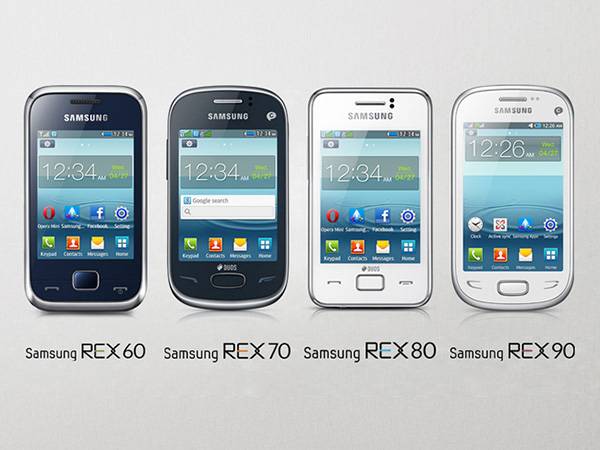 Samsung Rex 90 being the costliest (priced 6,490 INR) among the four handsets, sports a 3.5 inch capacitive touchscreen with 480 x 320 pixels resolution. It supports Dual SIM with 'True Hot Swap' ability, has Samsung TouchWiz UI (7 customizable home screens) along with a 3.2 megapixels camera and WiFi.
On the other hand, Samsung Rex 80, priced at 5,270 INR is a bit cheaper than Rex 90. This device features a 3 inch capacitive touchscreen (320 x 240 pixels resolution), 3 MP rear camera, Dual SIM support (without true hot swap feature) and Samsung's TouchWiz UI (8 home screens).
Similar to Rex 80, Samsung Rex 70 has a 3 inch capacitive display. This device comes with a price tag of 4,570 INR. Besides this, it has got a 2 Megapixels camera, TouchWiz UI (8 home screens) and Dual SIM support (with true hot swap feature).
The last handset is the Rex 60 which is priced 4,280 INR. It comes with a 2.8 inch touchscreen display (QVGA resolution), has dual SIM support, 1.3 Megapixels camera and comes with the same TouchWiz UI with 8 home screens.
So what are your views on the Samsung Rex series phones?
Will they be able to reap success like the Nokia asha series phones?
Comments are appreciated …