What are Trippy Backgrounds?
Trippy refers to resembling or inducing the hallucinatory effect produced by taking a psychedelic drug. Now to have these backgrounds you don't need to be a drug addict or lover LOL! These are just backgrounds and wallpapers that make your phone and computer look beautiful and attractive.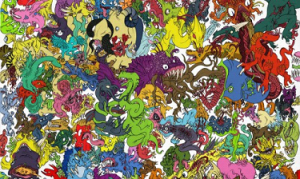 Most of the people don't prefer these kind of backgrounds because they think that it's some kind of boring stuff while some other people on the other hand think that these help you being creative and you can think about a lot of creative things since these backgrounds are designed in such a way that each one of them gives a different idea on humanity and nature.
In the following picture, colors are scattered in such a beautiful way that it shows the genius of the person who made it. It shows a skull covered in lot of colors, surrounded by devils which is not of course work of some average person and it takes a lot of time and hard work.
These backgrounds represent a different level and field of art where it seems like the confused by brilliant minds though called drug addicts by people, can bring such an amazing piece of art. A mind on drugs is not just a simply mind by there could be running a million of things which we humans sometimes can't see easily. Here are some more of the trippy artwork which you can use as your backgrounds and learn many things by just looking at the picture.
On Google there are millions artworks like this available where you can find a number of great artists and their great work. Since you're interested and of course that's why you're here go look for more and find out the amazing world of trippy and psychedelic art out there.