Windows 7 is the most popular operating system for computers due to its revolutionary design and features. There are many other operating systems operating out on other computer machines but no one beats the windows. It is the product of operating system King Microsoft owned by Bill Gates who have a great history in computer operating systems. It all started from Windows ME and 95 to till now all of what we have. Mac is also good if you are looking for secretive good but overall nothing beats Microsoft Windows 7. We Humans aren't not perfect at all and doesn't matter how good they are, human made things are likely to cause errors. Same is the problem with this Windows. Well there are numerous errors that occur due to many reasons on the Microsoft Windows but there are some that gives users a real headache. One of those errors is this Windows 7 not genuine problem.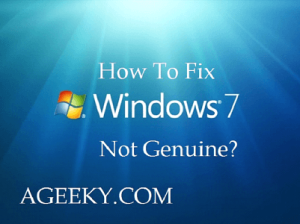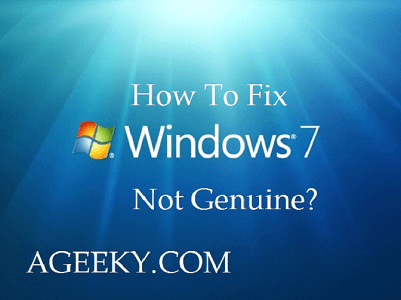 Though this problem wasn't anything as long as it was occurring on pirated copies but the appeal for fix got high when it started occurring even on genuine copies of windows. That's why many professionals from Microsoft and other independent worker started working on this problem and came out with many solutions. There are many solutions, however, there are very few that were worth something and even then not all the users got satisfied. Now since this problem is a complex one but don't worry this guide is not. It is long but not hard at all. In this article I am going to guide you on several things such as 1. What causes Windows 7 not genuine? 2. Why is it necessary to fix and 3. How to fix this? Now I guess all of this was enough for the introduction so let's move on the primary objective.
What are the reasons for Windows 7 not genuine?
There are a lot of reasons that could cause this problem. This might occur because of you or due to something wrong in the copy of your Windows 7. So let's put these reasons in a list.
First reason should be a pirated copy of Windows 7 that you are using. If you got your Windows 7 from a cheap DVD in market or downloaded it from torrents then what can I say? You are most likely to get this error in these conditions. So it is always better that you always buy a genuine copy of Windows from Microsoft registered to your name to avoid this inconvenience. Moreover the genuine Windows's performance is way better than crap you buy from illegal or invalid means.
The second reasons is that when your Windows goes out date. That might be because you forgot to update your info on the Microsoft and the date passes. Better way is to keep the automatic updates on so that the Windows does work itself.
Other reasons could include many system 32 and other DLL or update errors.
Why it occurred to you must be from the above 3 statements. We have prepared this easy step by step guide which includes different methods to fix the issue. Ok now it is now your time to learn how to fix Windows 7 not genuine problem.
How to fix Windows 7 not genuine?
Note: For you all reading this. There is nothing complicated in this guide so please don't lose the way and stick to each step and that would help good. Also don't worry about whether which versions of Windows you are using because this works on both 64 and 32 bit operating systems.
Method #1:
Your 1st step is to run the Command Prompt by typing CMD in the run command. Make sure that you open the thing in Admin mode.
Now type this command SLMGR-REAEM and you will see a message which will ask you to restart your computer. Since this command was not working on every Windows 7 and if it happens to you then type this command SLMGR/REARM and proceed.
Now restart your computer and wait. Once it is restarted then TA-DA your problem should be fixed.
This was easy wasn't it? But I said that this could complex. Yes! If you are lucky then the above steps will fix this Windows 7 not genuine problem for you but if not then you might get some errors. But don't worry I have mentioned the errors along with their fixes below so keep reading.
Error #1 and it's Fix:
The first of these that it will say The Maximum number of REARMs has exceeded. Don't worry it is very easy to fix.
Open the run command and type REGEDIT.EXE.

Note: (Am writing it in capital so that you could understand better and when you do it please write in the normal small letter font).

Now carefully follow this and do it exactly as it is written here. HKEY_LOCAL_MACHINE -> Software -> Microsoft -> WindowsNT -> Current version -> Software Protection Platform.
Press Enter and wait for the next thing.
Now look for something like SKIPREARM and then you will need to click on modify.
After modifying change its number value from 0 to 1 and proceed.
Then restart your computer. After restarting this error should get fixed as well as your genuine windows problem.
Error #2 and it's Fix:
The story might not end on Error #1 and there are chances that this error might occur which I named as #2 in this post.
The SLMGR might not be recognized as external or internal command by the computer and that could be due to few reasons.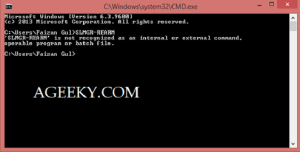 Because you didn't probably entered the SLMGR command correctly.
Or because you didn't run the CMD in Admin mode.
Fix:
This can be fixed by following this path. C: > Windows > System 32 > SLMGR.VBS.REMOVEWAT > rename it to SLMGR.VBS.
Now once these errors are fixed, your problem of Windows 7 not genuine will also get 100% fixed with it.
Ending Words:
If you are still facing any difficulty while solving this and then try again carefully otherwise you can ask me by posting your question in the comments sections. You can also leave feedback in the section below created for your thoughts. Stay tuned to our site AGEEKY for more of the easy fixes and info from any field of technology and we will surely help you.