How desperately you clicked this link when you saw the title FTS 2016 release and rumored features? Well I don't blame you because it is natural being a First Touch Soccer fan to wait for the release of new game of your favorite football simulation franchise. In this article you're going to know some spicy and interesting features of the new FTS 2016 but also our righteous guess on the release date of the game.
First Touch Soccer is a mobile football simulation game franchise which is known for their realistic and most amazing football games ever. Fans already know since they have been playing all their games since First Touch Soccer 2011 to 2015 and they how escalating a game it is. Having great critical reception as well as being most famous football simulation game, players enjoy it the whole year while expecting every coming year's versions to be better and better. But the irony is that unlike every other year, first touch developed have not released a game their year which will also be under discussion in this article.
Since you already know the purpose of writing this article. That is we will talk on some features that could be part of the game as well as we will try to know that when will FTS 2016 be coming? There is not many official statements and news out from the developers concerning the features and release date, so this will stay more of a guess and opinion post. Based on players and my own first touch soccer experience I will state many of the new features that were necessary and could be a part of the new game so this will be fun reading it. Yeah so let's get on with the task.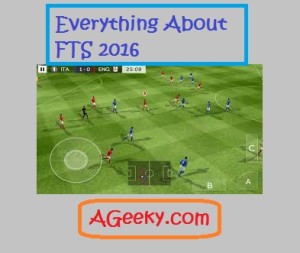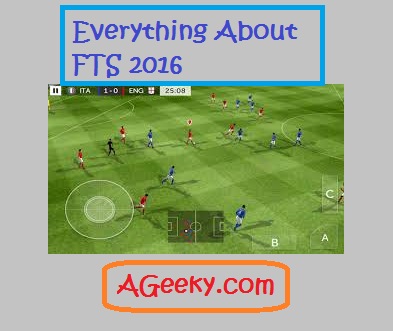 FTS 2016 Possible Release Date:
As the heading suggests, there is no official and confirmed date for the release of new FTS 16. Everything out here is a rumor or well hit guess. But I will obviously tell you from the most trusted resources since it is my duty not to deceive you.
First thing is always first. As per the Facebook page of the game, FTS 2016 won't be released this year. They said that they had created the game but they were some severe complications running the game and that's why they had to stop the release. The page said that the game was ready and set to come out for play but while it was being tested, they found out that there are challenges and that's why they won't be able to release the game. Following is the official statement from Facebook page.
"We are very sorry to announce you that there will no new release in this year.
We had created FTS 16 But when we tested the game, we found some problems. It is due to some technical problems. But don't worry about it. There will be new games in the upcoming year. Those games will be beyond your imagination. Thanks for your support.
HAPPY NEW YEAR."
I guess these words are enough have you confirmed. Moreover there are many other possibilities that the game might come out somewhere around August. This is the rumor on many big gaming websites and it is necessary for me to quote it for you. Though what they said on Facebook page should be considered because developers know better than who are just out on websites. Anyway we can hope that whatever are the issues, they will soon be fixes and we will soon be playing all new lovely FTS 16.
Download FTS 2016 apk free:
You can download fts 16 apk here.
Till the game is released, enjoy playing fts 2015. You can download fts 15 apk free here.
FTS 2016 Features (rumored):
Here is a long list of features that we think that would/might be part of the game.
Realistic Gameplay:
If you have played the previous games then you can already imagine that realistic would FTS 2016 be. First Touch Soccer is a game that is known for its realistic, immersive and genuine gameplay. They can claim to have gameplay better than any other football simulation game in mobile games world. And of course FTS 16 will be more realistic than ever. You will have amazing gaming experience with this amazing new game that is awaited by the players.
Emerging Graphics:
On the level of mobile, First Touch provides you with a footballing environment that makes you wonder whether is this really a phone game. Beautiful terrain, smooth ball movements, crown intensity and exotic football grounds with latest mobile graphics technologies take your gaming experience to a new level. Chanting of the crowd becomes more real with amazing Sound FX as well as beautiful comments of the commentators makes you feel like in EA Sports FIFA world. What else do you expect from a mobile football game that already has everything.
Other Game Modes:
Here is a long list of other features and game modes that could be the part of new FTS 2016.
To be a realistic game it is important that they create better player movements. And this is what you will get from new First Touch Soccer 2016 this year. Player movements will be most near to reality and you will love the tricks of Ronaldo and dribbles of Leo Messi.
Game will include all the official leagues and their players. It will include LA LIGA, Barclays Premier League, BUNDES LIGA, Italian SERIE A, French LIGUE 1 and all other major football leagues.
You will see your favorite teams in their new kits, boots and other kit accessories on a football pitch. You will love customizing new colors in which you want your players to play and show their skills.
Stamina and energy will be part of the game which will definitely add to the realistic behavior of the game. Player will get tired and will need to get substituted which will bring the game nearer to the reality.
Customization for Stadium, Kits, players, team and all other items will be available and you will a real managing experience for a football game.
This and many more amazing features are awaiting you as soon as the game comes out. Let's hope that this will be another amazing game just like the previous ones. What do you think about the new FTS 2016? Leave us your thoughts and feedback in the comments sections. Stay tuned to AGEEKY for more news and updates on FTS 2016.