When we hear the word Razer, some amazing quality computer accessories hit out mind such as mouse, keyboards and controllers. Razer Saber Tooth is another of their controller for x-box 360 and PC which is a successor to award winning Razer Onzo. Let's tell you what we found out when we did Razer Saber Tooth's unboxing.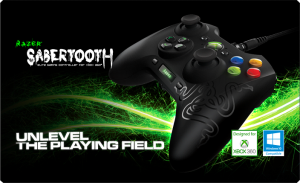 Razer Saber Tooth is a super charged controller for X-box 360 and PC which came beautiful design and amazing level of comfort.
Features of Razer SaberTooth:
Razer have added six additional programmable buttons that provide you variety of things to control. These buttons are places as, two at the top or shoulder of the controller and two at the bottom of the controller. The other two position are placed right at your fingertips which are used to re-configure controls.
Razer Saber Tooth is forged as Valyrian steel, which fulfills all the needs of the gamers with impressive handling and material used to build device makes it very strong to break.
Built-in OLED screen enables to you to customize your controller. Now you save your profile, change the sensitivity and can also program multi-functional buttons.
Specifications of Razer Sabertooth:
Two multi-functional buttons at the shoulders.
Four removable multi-functional buttons used to perform the functions mentioned above.
For feature customization there is an OLED screen.
A rubber surface where your hands won't ever slip.
A USB connector that is very easy and quick to release and connect.
A microphone of length 2.5 mm.
Having an approximate screen size of 110mm/ 4.33" (Length) x 154mm/ 6.06" (Width) x 57mm/ 2.24" (Height).
Approximate weight is 288g / 0.63 lbs.
I think this is yet the best gaming controller for PC because using it has really pumped up my gaming. So don't wait and get yours, Enjoy!