We did hear of Android smartphones, tablets, phablets, but an android Camera seems to be the latest to hit the market. It is not just a camera but an Android phone as well, so in short we can say technology utilized at its best. The first of the Android cameras had been brought out by Nikon under its CoolPix S800c series. Even though it did not make a success in the commercial market as the device reportedly had issues. But now with the new Samsung Galaxy Camera, the Android Camera seems to be popular. The unique feature of the Samsung Galaxy camera is that it comes with a 3G SIM card, which makes it a camera and a phone. The camera comes with 16 MP resolution, 21 x, 23 mm zoom lens, and utilizes the Android Jelly Bean OS. The camera not just allows you to capture image or a video but at the same time allows the user to share and access to other users via internet.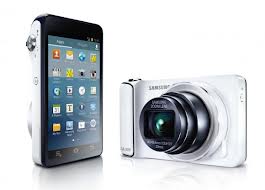 Features of Samsung Galaxy Camera
The Samsung Galaxy Camera offers some exceptional features like – touch screen and picture realism, Slow motion, organic design/ voice control, Data transfer, etc. The Touch screen makes it easy for the user to review his image captured and with the high resolution the photographer can view the high profile colors. With the High definition movie recording and the playback, the viewer can enjoy a crystal clear image. The camera also offers a slow motion feature, which helps the photographer to capture certain shots in slow motion with a real time rate of 120 frames per second. The slow motion feature helps to capture every single move in a frame by frame sequence. Even while capturing it in a slow motion rate the video quality is not lost with a high resolution of 720 x 480 pixels.
One of the exceptional features the organic design helps you to access any image capturing action. For this you can place your finger on the organic design icon, which helps to capture high resolution picture without any blur or shake. The camera also comes up with a voice control option which lets the user to record any audio. The camera includes some in-built editing option which comes really handy. It includes- auto face calibration. The user can edit, and preview the image or even make a movie clip. The in-built Wi-Fi feature and the 3G system help the user to share the photos directly from the device. The SMART content manager system helps to manage the file in the camera itself.
Julian Robert works with Zco's android game development team as a copywriter.