Dream league soccer or soccer dream league is a super hit remastered football based game mainly launched to beat FIFA 2016, as we know how famous is this game! Yet unable to beat the likes of the FIFA. It is developed by First Touch Game. You can Download the original game APK + Dream League Soccer Mod APK + its data provided from the links below.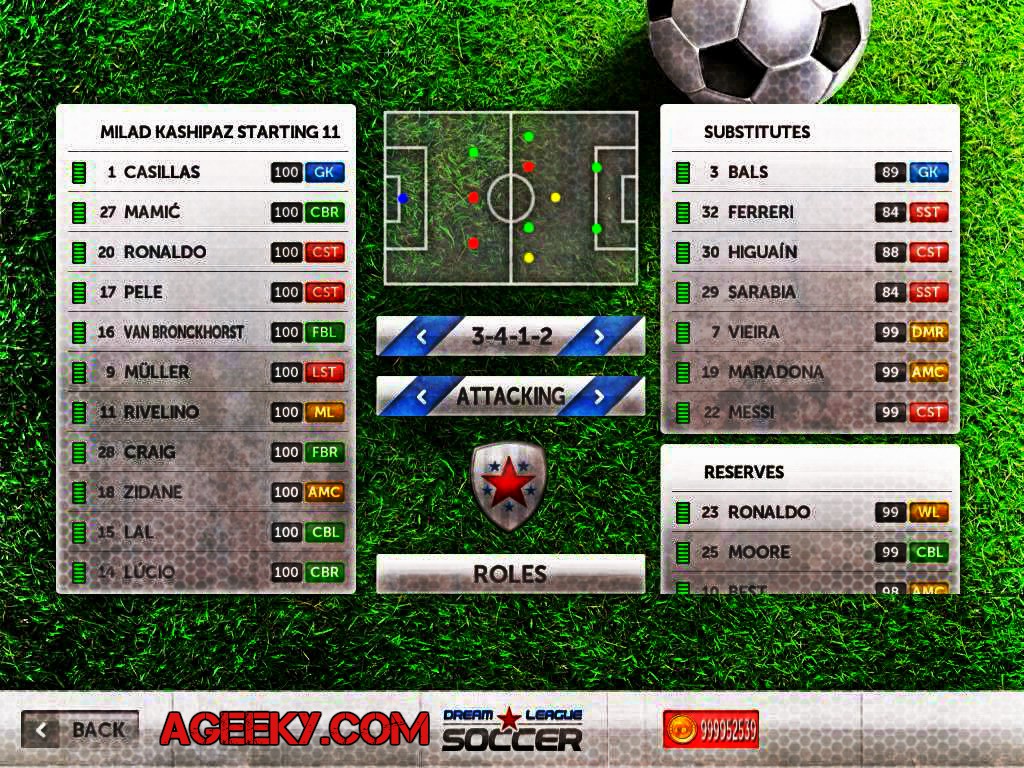 Dream league soccer Gameplay:
As this game is quite famous over google play store, positive feedback is 4.5 stars, which reflects the game is loved by down loaders. When you download dream league soccer apk and install it, you will find a white screen, where you find its privacy policy. In privacy policy, they clearly said, that no player link with its original identity, face structure, their qualities even nothing matches to original identity and so on. After a get some loading, a screen will appear in which you have to set up your team kit, i.e. team name, kit, etc. After all that set up and fuss, now you are able to enjoy an unparalleled soccer experience on your phone, you need to unlock a few coins before getting hands on famous players which will help to beat some tough rivalries. Furthermore, in this game you have been provided with a whole lot of playing grounds / stadiums which will get unlock as the game progresses. You have to go through 5 different stages to reach the finale.
Positive aspects of the game:
Here are few positive aspects of the game which we felt that ought to be figured out which are as follows:
The game is very well optimized with very minimal bugs and glitches. Rare crashes has been reported.
Visual quality is stunning.
Some extra cool features like, Players exhibiting their nerves in the form of expressions. Which should be expected on a current gen game.
A whole lot of games in Google Play runs under the Google adMob network. It is really annoying when the page level ads pops up very often.
Dribbling effect is nice though.
You can buy your favorite players at way lower cost than the other games in the market.
Oh well! the game is addictive like weed so stay away. (Joke)
Negative aspects of the game:
This game includes some issues that is harshly effecting its reputation, especially on google play store here are someone:
The game has no cloud saving feature means if in case your game gets delete then you have to play the game from the start.
Having no online access, means no to multi-players.
No options are there to change the kits or footballs, opposite teams should be more challenging.
They are an issue of the analogue stick, they have to fix it!
You can miss an open net from 1 yard out and the player switching is annoying. Also, when the opponent does a skill move you can literally NOT TOUCH THE BALL!!!!!
It never gets any update, that makes it a bit boring, playing something over and over again.
While on ground the user experience is not good.
Things that Devs should add:
Firstly they should add a cloud auto save mode that saves the game forever like, Fashion story, Clash of Clan and others. And users are looking for it badly.
Updates should be added every month to make the game more interesting.
They should fix user experience issue as many people complained that they get lost their semi and final.
There is still a room for more enhanced graphics, player's faces should be made more visible.
They should add in an online gameplay. People usually likes the game because of its multiplayer.
No fair comparison, an opponent team have better techniques than us Why?
They have to fix it analog stick issue, in case you are playing the final and your screen gets stuck and the most important thing that it has no saving feature, think what will you do at that time!!!
Dream League Soccer Mod APK:
As we have seen many players that they have been using different extravaganza mods for the game and you know many of them personally designed the mods from the designers. Now, what is basically a mod? The mod is basically called hack, it is created for ease in the game or simply do a cheating that commonly against every game guideline. However, you can easily by-pass it because there is no security which detects it, so you can easily so cheating as much as you want! Here we provided you a link that directs you to the mod.
Download Dream League Soccer MOD
Procedure to download the Mod APK:
First, you have to require cache (obb) files, which you will get easily from cloud.mail.ru. But it is a bit different for both mobile and desktop users. For mobile users go to the above-mentioned the site and simply click on the blue button, while for desktop users you just go to the site, it will automatically direct you to apk file. Download it.
Wait till it gets download.
After it, download the game as we have taken Dream league soccer, but you have to download it via this app.
Now it's up to you to download the file manager, because it makes easy to find the app.
After that go to the device setting (Settings>Security>Unknown Sources) and make sure the box is checked.
Now extract that game.
Wait till it gets extract, now you have done!
Enjoy, the game via using Mod.
Dream League Soccer APK Data:
Now the question arises what is actually apk data? Apk data is the full list that if you will do that, it will give you unlimited coins and other things so along with Mod date is neccessary.
Download Dream League Soccer APK DATA
Dream league soccer download apk:
As I observed that many people searching on the internet regarding its apk file, but unfortunately they fail to get, the reason behind it that their mobile can't support play store, or any other issue they can't get its APK. Here we are going to provide you an apk file so no worries.. Here is the apk file where you can download it.
Dream League Soccer APK Download
Conclusion:
We have tried to explain all the aspects of the Dream League Soccer and also had brought you download links for the Dream League Soccer Mod APK + its data. Hope you will like it. Further you can request anything below in the comments area.