Being called probably the best game on mobile by Vice.com I decided to write some on this amazing game. The Room Three is a puzzle game developed by Fire Proof Games for Apple and Android. You can download the room three APK at the end of this post but first let's gaze through this game.
A beautiful puzzle game environment where you will navigate through your mental skills. You will be facing a number of trials and the only way to navigate through them is by using the best of your brain. The room and the room 2 being an average games, this time Fire Proof games really came up with something blasting.
The game when starts, looks easy but later on it will suck the brain out of you. A single mistake in unaffordable in the game since you can't take one step ahead while missing even a single thing. The game would definitely blow up your mind for the difficult puzzles it has and at the same time you will have a lot of fun.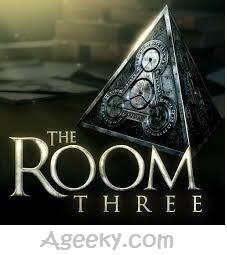 The Room Three Review:
Gameplay design:
The game provides you with an easy user workspace where you will begin with solving easy puzzles to the puzzles that will definitely suck the brain out of you. Moreover the touch experience is really amazing. You touch on the screen will feel like you have really touched the object in real.
Vast Environment:
As compared to previous games such as the room and the room 2, the room three provides you a vast environment when even a single location expands to another. You won't just be limited to one place but can reach others from a single place.
Explore more items:
There are several items hidden that are needed to found in the environment. Though hidden, they are present there. Now it's your job to look for those items and find more about them. There are several secrets hidden behind each item and it's yours to explore.
Magnify your World:
Developers took care of your needs and created a new ability for you in the game named 'Eye Piece'. Using this ability you can find even tiny objects and find more about them.
Alternate Climax:
There is not just one ending to the story any longer. You can choose you fate. Playing differently will take you to one ending and then if you play some other way, you might reach another fate.
Mind opening Hints:
You can't just stuck at one place forever. While playing you will be provided with certain hints. By contemplating on them, you can get yourself out of a tricky situation.
Zero Language Complex:
The game is available in most of the major world languages. If you are not good at English then you don't need to stick with it. You can try changing the language to your regional language. Languages include in the game are, Spanish, Portuguese, Brazilian, Italian, German, Russian and Turkish.
The Three Room Reception:
The three room APK received a great reception from the fans and experts. Vice.com said, "This is probably the best game on Mobile". It holds a rating of 5/5 on iTunes and 4.9/5 on the Google play store. This game is as amazing as the ratings it got.
Touch Arcade said, "Much bigger and longer than previous titles, more of a full blown adventure game".
By looking at the comments from the experts, you can easily estimate the awesomeness of the game. On Google play store it is available for $4.99 . Get your copy as soon as you can and have fun the with best puzzle game ever.
The Room three apk free :
Download this game from play store here.
Download the room three apk free here.