On desktop people spend hours playing MMORPG, because of their unique and distinctive nature. But with the passage of time this very genre is getting fame on android platform too. Here we have a few cherry picked MMORPG for android. In case you are seeking to start a MMORPG on your android smart phone device you can pick from these.
Top 5 Best Free MMORPG For Android: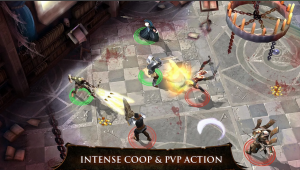 5. Avabel Online:
Avabel Online is a 3D MMORPG with around 3-5 million players playing it. You have plenty to do in game like hunting monsters, completing quests etc. The graphics are quite good, and the in game movements likes combo strikes, sequential attacks with jump action are just wow. Moreover, it has been updated quite frequently with new content. To play this game make sure you must have android version 2.3 Gingerbread and above.
4. Brave trials:
Brave trials is another addicting MMORPG with cartoony style classical visuals. The amazing thing about Brave trials is that there are around 120 skills that you can teach to your game character. You must have android 2.3 Gingerbread or up, plus 146 MB space free. It is #4 in our top 5 best free MMORPG count down.
3. Arcane Legends:
Arcane Legends is the best and newest version of the Pocket Legends range, that was the earliest mobile MMORPG to really hit on the Android store. The quests is going to take you together with a pet through darkly-lit taverns, forests, and dank dungeons where you gonna fight dragons, orcs, besides other evil powers wanting to tighten their hold over the kingdom of Arlor.  It's our pick for #3.
The game requires 40 MB of free space a mid end device with 2.3 Ginger bread or above OS.
2. Order & Chaos Online:
Order & Chaos Online is among the best MMORPGs you'll find on the mobile platform . This game appears to be based off on WoW. It was once paid but now you can get it totally free on play-store. If you are seeking for a very good MMORPG to play, solve quests along with friends this is the best pick for you then. To play the game you will need a massive 2 GB of free space and android 2.3+.
1. Dungeon Hunter 4:
Dungeon Hunter 4 is a very popular and well-known MMORPGs on Android. The game is developed by biggy Devs "Gameloft", famous for developing top tier games for mobile platform. Visual quality is unmatched.  You can select from 4 types of classes to start, further you also have the option to play PvP or co-op if you are interested in online action. Personally speaking Dungeon Hunter 4 is my favorite MMORPG of all time, and in our listing it topped our count down of "Top 5 Best MMORPG for android".
Image credits: PlayStore