Yesterday at an event in California, Apple unveils its much awaited 7.9-inch iPad variant under the name iPad mini. This articles compares the Apple iPad mini with its very strong competitor – Google Nexus 7.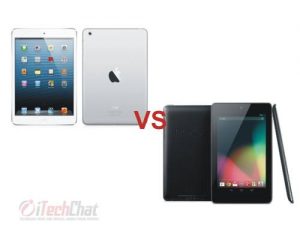 Apple iPad Mini vs Google Nexus 7
Dimensions and Weight:
The iPad mini measures 134.7 x 200 mm and weighs 308 g where as the Google Nexus 7 measures 120 x 198.5 mm and weighs 340 g. So here we can say that the ipad mini is lighter and comfortable to hold.
Design and Display:
The design on the newly launched iPad mini is much similar to the iPod touch. All you need to do is to imagine ipod touch in your mind and blow it up to measure 7.9-inches in size.
Concerning about the display, the apple ipad mini sports a 7.9-inch LED-backilit IPS display operating at a resolution of 768 x 1024 where as Google Nexus 7 has a 7-inch LED-backilit IPS display operating at 800 x 1280 resolution.
Processor:
iPad mini is equipped with a A5 dual core 1 GHz processor while Google Nexus 7 has a NVIDIA Tegra 3 Quad core 1.3 GHz processor.
Camera:
Apple iPad mini features a 5 Megapixel rear and 1.2 Megapixel front camera where as Google Nexus 7 lacks rear camera but has a 1.2 MP front camera.
Operating system and RAM:
Nexus 7 runs on android v4.1 (Jelly Bean) and has 1 GB RAM whereas iPad mini runs on v6.0 iOS platform and features a 512 MB RAM.
Storage:
Google currently has 8 GB and 16 GB variants of Nexus 7 where as iPad mini comes in three variants of 16GB, 32GB and 64GB respectively.
Battery Backup:
In Apple iPad mini, you can watch videos, play music & browse upto 10 h where as Google quotes 9 h of HD Video playback, 10 h of the web browsing and upto 300 h standby time.
Price:
Apple iPad mini is priced at about 340 USD for 16 GB WiFi model, 450 USD for 32 GB and 550 USD for 64 GB variants.
while Google Nexus 7 costs around 200 USD for 8GB and 257 USD for 16 GB variants. However a 32 GB variant is expected to launch soon at the same price tag.
Conclusion:
Its pretty hard to conclude as both of the tablets are best in their own class.
Lets leave this to you !
Which is your favorite? Is it Apple iPad mini or Google Nexus 7.
Comments are appreciated!!!