I know people have been talking about smart phones and tablets. This time, it is a new case; let's have a look on the new "phablet" device. This is about the new sleek Samsung Galaxy note 2. This is an elegant smart phone that has multiple features that cannot be thought to exist in a mobile handset. It was first released to the Indian market in September. As a state of the art device, it has what it takes to be presumed as a smartphone. It has the following speculation:
As a norm in emerging Smartphones, it is design to perfection to support the 4G network.
Apart from this, it also supports the EDGE and GPRS technology.
Samsung Galaxy note 2 runs a dual core processor that has a processing speed of 1.4 GHz.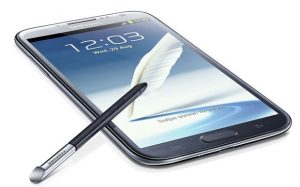 Samsung Galaxy Note 2 Specifications
Design and Display:
As a notebook, it has a screen dimension that is comfortable to operate. It has a 5.3-inch screen. The screen too is a High Definition one. This one too goes hand in hand with its video functionality. It has the capability of supporting HD videos which is about 1080p with a recording ability.
In terms of its body looks, it has a dimension of 5.95 x 3.17 x 0.37 inches, weighing approximately 183 grams. It also supports the S Pen used for navigation.
The touch screen is definitely the best one i.e. the capacitive one. Screen size is 5.5-inches and has a front protection coatings used to safeguard the screen from damage.
Music formats:
It has a recherché sound capability. It supports the all time 3.50 mm sound jack. Supports too all the music formats that include mp3, jpeg, mpeg, wav and many others.
Memory:
Samsung Galaxy note 2 comes with an option of 16, 32 or 64 GB memory. The expandable memory can also be extended to 64GB. Its Random Access Memory is 2 GB.
Connectivity:
In terms of data capability in terms of where bounded/wired or unbounded/wireless, its specification is worth acceptance. It supports various versions of Wi-Fi categories that include Wi-Fi 802.11, dual-Direct, Direct Wireless and Wi-Fi hotspot. Supports Bluetooth at its possible radius.
Processor and OS:
In terms of its features, it runs on the most recent Android OS basically known as "Jelly Bean". This is officially known as the Android Operating System version 4.1.1. It runs on a quad based processor. The speed of each processor is 1.6 GHz. When all this processor is combined, it gives a supersonic speed performance.
It supports all the common and new messaging services that include; push mail, SMS, Multimedia messages and Really Simple Syndicate (RSS feeds).
It supports the recent browser text format one being the HTML5. Browser viewing error is thus reduced.
Global Positioning System is integrated into Samsung Galaxy note 2. Though it is an Android based handset; it is designed to support Java. This can be achieved by using the Java emulator.
In terms of its exterior color, it can either be of marble white or titanium gray.
Battery backup:
This handset uses a standard Li-lon battery 3100 mAh. This battery can stand for some good time. When the device is under a standby mode, it can last for 980 hours when set to operate in 2G and 890 hours under 3G. In terms of battery span while talking, it can last up to 35 hour or 16 hours, keeping in mind under 2G and 3G respectively.
Samsung Galaxy Note 2 Price in India:
Samsung Galaxy note 2 specifications proves that it is an awesome device to own. In India, it is priced at about Rs 39,990.