Google Play Store is the biggest app store for android operating system. Here you can download all kind of applications and games for your android phone. Downloading from Google Play Store is the easiest of things. All you need to do is to type in the name of the app and it will be there. Then simply download the install button to start using it. Some people have free space issues. They can't download and use all apps at the same time. Still, they want to have the APK file to install it later. That's because if they do not have an internet connection then what are they going to do? Today, I am going to show you How to download APKs from Google Play store?
This is important because you can download APKs and save them on your computer for future. Now when you have these, doesn't matter when you don't have the internet then. The APKs are already present on the computer and you can use them on your android. Now downloading APKs from Google Play Store isn't easy. It takes a good method to get the APK from the store. That's why I have written this post with the easiest of words. This is a long procedure and I have tried to make it easier as possible. Follow each and every step in the guide carefully. Don't try your things in the middle because it could ruin the whole process. So, so that's all for intros. Let's move on with the step by step guide to downloading APKs from Google Play Store.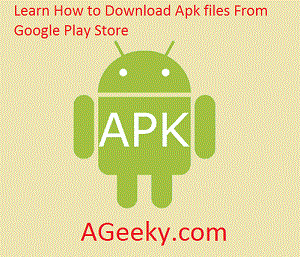 Step by Step Guide to download APKs from Google Play Store:
You can do this using two ways. First, by using an extension and then second, using a website. I am going to tell you both ways. They are both very easy and you're going to learn them in next few minutes. So let's go with the process.
1. Using APK Downloader Extension:
Using APK Downloader Extension, you can easy install APKs from Google Play Store. Just follow the steps below and you will be done.
If you using Google Chrome, then download the extension from the Anchor Text link.
Once you have downloaded the extension, install it on your browser. You can also do this process on Mozilla Firefox as well.
Now you will need to register yourself on the extension.
Use your email id to do that. It is good if you use the Gmail id because GPS uses the same.
Get your Device ID by downloading the Device ID app on your phone.
Now search for the app you want and download the free APK from Google Play store easily.
2. Using Online Website:
This is the easiest method so follow the steps below.
Go to Google Play Store and search for the app.
Copy the app's URL from the address bar.
Now go to this website here.
Paste the link you have copied from the GPS in the bar given on the website.
The last step is to simply click on 'Generate Download Link'.
You will have a free APK within next few seconds. Use these methods to download APKs from Google Play store. Also, leave us your feedback in the comments section. Keep visiting AGEEKY for more Tech Guides and APKs.