Prank Dial is one of the most amazing fun applications. You can have endless fun by teasing your friends and family using this app. This app works on very simples principles. All you have got to do is choose a pre-recorded message or audio. Then use a number from your contact list of sending it. The person will get a call having that audio which will definitely annoying. All you get here is a lot of fun. Now there are token needed to use this app. One way is to buy them but who has got this much money. You don't need to spend money for everything on the internet. There are a lot of other ways to do this thing too. Today, I am going to give you an easy guide on How to get free tokens on Prank Dial?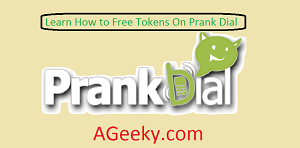 Easy tricks to get Prankdial Free Tokens:
If you are a son of millionaire then maybe this guide is not for you. You can definitely buy token online from different websites to use Prank Dial. This guide is for those who are not rich enough to spend money and wants some fun. This guide is not very difficult either. All, you will need to do is to follow some easy steps to do that.
An easy way to get few free prank calls is by connecting it to Facebook. This is the reward you get for connecting your app to Facebook and getting it socialize. You can get more and more calls if you connect to as many as Facebook accounts. But who has got enough time to do all this right? No one can waste his whole day creating new accounts and getting free calls in this way. That's why to follow this easy step by step guide to get unlimited prankdial free tokens.
Open your 'Mozilla Firefox' web browser.
On the upper right corner, open the menus in your browser.
Once you are in the menus, click on the add-ons.
Now in the search bar type in 'Anonymous'. You will get an add-on with the same name. Add this add-on to your browser.
Now restart your browser for the changes to take effect.
Now go to the prank call website where you have 2 free calls already. Use them right now.
Now when you have 0 calls, open the add-on.
In the add-on, click on 'Change Identity' and reload the page.
You will see that you will have 2 more calls.
Repeat this process to get more and more calls.
Final words about free tokens on Prank Dial:
So, this was an easy trick to get the unlimited free tokens on Prank Dial. In future, I will also do a guide no how to get the free tokens on Prank Dial on iPhone. You can also use Prank Dial token id generator to get the token but that costs money. Did you like this guide and did you enjoy it? Leave us your comments about this posts in the comments section and ask questions if you have any. Keep visiting AGEEKY for more Tech Guides, tricks & tips, and APKs.