Google play store is place of real fun for android users where they download their favourite apps and have fun with them. It is sometimes that people face an error in which they aren't able to search and do anything on play store. That error is called 905 and we should know that it easy to fix so you don't to worry. Here in this post am going to and easy way on How to fix error 905 in Google play store.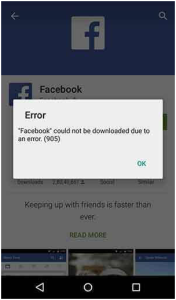 It occurs because some of the latest have got problems in them. First you will need to uninstall those updates and then you will have to install them again. Here is a step by step guide on how to do that.
Fixing 905 error in google play store:
In your android device, go to the setting menu (you should know where are those).
Now go to the applications and look for manage applications.
Select 'manager applications' or either 'application manager' (however they are in your phone).
Find 'Google play store' or if you can't find it select 'All' and uninstall al the updates.
This will revert your play store to the older version. Now again you can install those updates because re-doing that fixes all the errors in it.
This must work for you if you have all the things as mentioned above, else you can contact Google play store assistance and they might provide you a solution according to your configuration.