Finally with the announcement of the gigantic HTC One Max it seems like HTC is trying to construct a strong base in this technological market. HTC One Max is an enlarged version of HTC One, so it is going to come with even more interesting features when compared to its predecessor. The top most feature of this handset is a fingerprint scanner. HTC has launched this for the first time and this is the only phablet having this feature. It is located on the back of the handset, which allows the user to lock or unlock the phone. For now you have seen just one interesting feature of it, lets know more about its specifications.
Do Read: HTC Butterfly Price in India
HTC One Max Specifications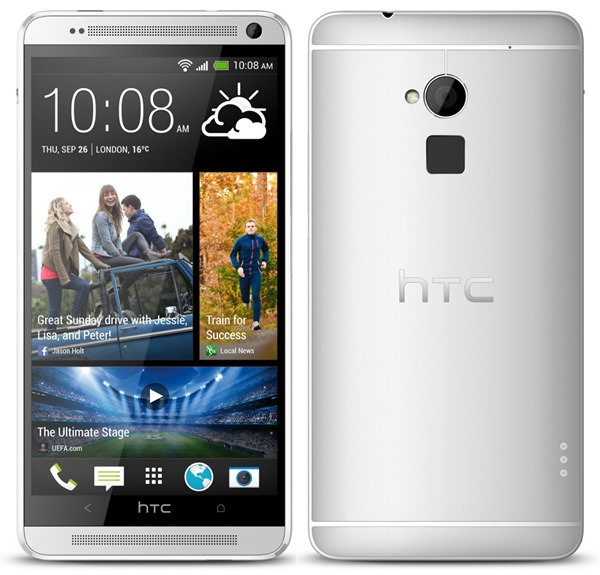 Size and Display
The device has a 5.9 inch display provided with 1080p full HD resolution. The size of the phablet is 164.5 x 82.5 x 10.29mm. and it weighs around 217 g. It is available on glacial silver display.
Processor
The most interesting thing is that the handset is powered by a 1.7 GHz quad-core Qualcomm Snapdragon 600 processor which lacks in many other devices. It runs Android with HTC sense.
Do Read: HTC Desire 600 Specifications
Memory
It is provided with 2 GB RAM. The phablet comes in two varieties – 16 GB and 32 GB with additional option of expanding the storage capacity up to 64 GB via MicroSD card which is supported by the card slot provided.
Camera
It would be an insult if we just call it a camera, rather saying it as a feature-rich camera. It is termed so because this provides the user with such great captures which gives the artistic photo flair. It has a front camera with 2.1 megapixel, 88'' wide angle lens with HDR capability. It also has a 4 MP Ultrapixel camera same as that of HTC One. It has 5 levels of flash that automatically sets by distance to object. It is also available with 1080p full HD video recording.
Connectivity
It is provided with 3.5 mm Stereo Audio jack, NFC, Bluetooth with aptx enabled, Wi-Fi, DLNA which helps in wireless streaming of social media from phone to a compatible TV or computer, micro USB, 3G, 3G –CDMA, 4G-LTE.
Battery
The phablet comes with a 3300 mAh battery. It is an embedded rechargeable Li-polymer battery. If you are a chatterbox then this is the best choice you can have because this provides talk time of up to 25-26 hours. Standby capacity is 393 hours for CDMA.
Do Read about: HTC One X Plus
Key Features
Maximized bass – due to the presence of dual front facing stereo speakers and built in amplifier it creates a louder bass for booming audio. So every user may love to have this as now a days everyone is fond of listening to such booming audios.
Extended convenience- you may be fed up with locking or unlocking the phone now and then. HTC one max provides you with a rear side fingerprint scanner that helps you to unlock your phone as well as launches your favorite application with just a single swipe. You can register up to three fingerprints.
HTC One Max Price in India
The device is available in India priced Rs. 56,490/-