Hey readers today I have come up with some really crucial things regarding IMEI number and vary things related to it. In this article you're going to learn few things that you were searching for quite a time and might never found satisfactory answers. They are 1. Invalid IMEI and its fix. 2. How to change IMEI number? 3. How to easy repair IMEI? And 4. How to unblock IMEI?
IMEI is a mobile device tracking serial number that company provides to keep track of item and for customer's security. For instance you lost your phone or it got robbed then you can contact Company to disable/block your phone. This will be possible only if you remember your IMEI number. That's why whenever you buy a new phone, make sure that you write its IMEI somewhere safe. Being done with the intro, let's move on to the most important things.
Invalid IMEI problem and its fix:
Invalid IMEI problem is the one which people fear the most. But is not as horrible as it seems. You can fix it easily. With the help of this step by step guide you can easily fix Invalid IMEI problem. Ok so let's move on with it.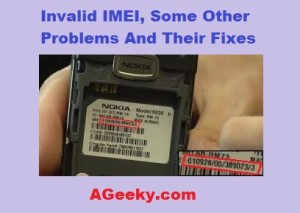 Here are few things that you got to have first.
Of course a device that has invalid IMEI problem and it must be rooted.
A PC with installed ABD drivers.
MTK Droid tools and A USB data cable.
Carefully note down both IMEI numbers of phone on a page or text document.
Fix for Invalid IMEI:
Note: This only works for rooted device so make sure that you check before trying. You could use 'Root Checker' to check it. Download the software from Google Play Store.
Download MTK Droid tools, extract them and install on your PC.
Open MTK Droid tools and make sure that you do that in administrator mode.
On USB Debugging mode on your mobile device by going to the settings and then developer options.
Connect to your PC with the help of data cable.
You can only process if the application recognizes your mobile device. If it does then press ROOT at the bottom.
After that the indicator that is in the left bottom, must turn green.
Now in your software you will be able to see a tab named IMEI/NVRAM. Click on it and enter your both IMEIs in the columns 1 and 2 respectively.
No all you've got to do is click Replace IMEI button and check on your phone whether the problem has been solved.
Easy, wasn't it? Please don't say thank you because we're here to help!
IMEI Changer:
There are a lot of mobile problems that can be solved if you simply change your IMEI number. Now if you are not sure that which IMEI changer is the best then don't worry, I have got it for you. The software that best suits your need could be XPOSED IMEI Changer. Not only I will provide you the link to download it but also show you the procedure with which you can easily change your IMEI. This is very reliable and easy IMEI changer.
Note: Make sure that before using this software that your mobile device is rooted it has XPOSED Framework installed. Framework is compulsory and without it, this won't work so do install it first. Once being done with that, you can go ahead in this post.
Install the app by downloading it from the link below.
Then in the framework enable module in App.
Now enter the app again and enter a new IMEI number value.
Then you will require a little reboot and you are all done. Check by dialing *#06# to see the value that has been changed.
You can download IMEI Changer from this Google Play store link.
How to repair IMEI?
I already told you that you're going to learn everything in this post. So our next stop is how to repair IMEI? This can be done easily with the help of a software named terminal emulator. You should also know that this procedure doesn't guarantee 100% work so apologies if this didn't work for you. Still it's worth a shot so make sure that you try. Following procedure is how you do it.
Make sure that you device is rooted.
Download the Terminal Emulator. Install it on your mobile device and open it to get ready for work.
Now write echo 'AT+EMGR=1,7,"Your IMEI number">/DEV/pttycmd1. After writing press enter.
Now reboot your mobile device and wait because this could take some time.
Once it is restarted, dial this number *#06# on your mobile to see your IMEI number.
Hope this will fix the issue for you.
How to unblock/restore IMEI number?
Here is the last of IMEI problems and then you will be done. Sometimes when you dial *#06#, you will see that it would say because your IMEI is blocked and need to restored. So follow the following step by step guide to restore/unlock your IMEI.
Go to the phone dialer and type*#197328640#. This will bring you into the service mode.
Then click on the option number 6 which is common and after that click FTM which is option number one.
Now FTM must be on there and you have got to turn it OFF.
Now take SIM card out and restart your phone.
Then again in dialer dial the number which is mentioned in step 1.
Now press the option 1 which is Debug Screen and then Phone control that is option 8.
Now click on NAS control which is option number 3. Now click RRC (HSDPA) that is option 5.
Now you'll have to click on Change RRC Revision which is option 2. Choose RRC revision according to your phone. In our case it is HSDPA.
Now put the SIM card back again and restart your phone. This will restore your IMEI as well as no signal problem should also be solved with this.
This also works on flashed devices so you need not worry about that. Also make sure that you backup all of your stuff such as photos, videos or any other data that is relevant to you. This procedure could result in data lost as well so backup is very necessary.
So this was everything about major IMEI problems and I really hope that this helped you in a big way. Stay tuned to our site AGEEKY for more stuff on Tech and stuff!