It is always a topic of massive discussion among people when Apple announce that they will be releasing their new Iphone product. Again after Iphone 6, when Apple announced that they will be launching Iphone 6s, chattering also started within people.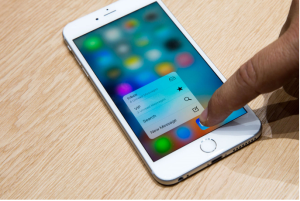 Finally Iphone 6s came out on a launch in San Fransisco on 10th september. It amazed people since it came up with amazing new features. Some of them are listed below:
Rose Gold:
There is not any difference in shape but of course we have a new color for Iphone 6s, called Rose Gold which gives blush pink look to the device.
Aerospace Aluminium:
This year's Iphone won't bend as previous phone was rumored, with high grade aluminium which is also being used in Aerospace industry providing it more inner strength.
The 3D Touch:
If you've waited for this then you must be glad that the wait is over. The next generation multi-touch or 3D finally comes with new Iphone 6s. By putting some pressure on screen you can do some quick tasks like replying an email or to take a quick selfie.
Enhanced Camera:
Finally, Apple got rid of 8 mega-pixels and moved to 12 MP back and 5 MP back camera. Enhanced Auto-focus and amazing color accuracy are the proud features of this wonder phone. You can make 4k video and record your memories in more detail.
Use internet faster than ever:
Iphone 6s uses advanced 4G LTE and faster Wi-Fi connections giving you faster access to web pages.
The IOS 9:
Every thing will now be updated with fastest operating system, enhancing your softwares, a stronger Siri, 3 hours more battery life and amazing new Low Power mode.
Do you have enough in your Wallet?
16GB version of Iphone has a price of $650, 64GB costs $750 and 128GB costs $850 with $100 and $200 contracts respectively. Money is everything that matters so make sure you have enough while going to shop for none but Apple Iphone 6s.