Sometimes in your browser, it happens that you can't browse on the internet and the message you get of the problem is 'Proxy server is refusing connections'.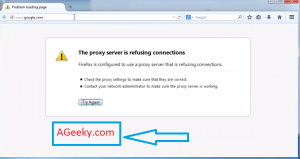 When you look at the bottom of your screen you see that your internet is being shown connected and there is nothing wrong with the router or your internet settings then this could be a problem caused by something wrong in the browser.
Here are going to show you how to fix this error for two of the most used browsers i.e. Google Chrome and Mozilla Firefox.
How to fix 'Proxy server is refusing connection' in Mozilla Firefox?
This is not a very difficult process so you just need to follow the following steps.
Open Firefox and the top right corner, you will have open menu button and then there open options menu, find it and open.
There will be a number of many settings but since we are concerned with fixing the internet issue, we will go to the 'Advance' settings.
In Advance settings, look for the 'Network' button and enter it.
Go to the settings in there, and in 'connections' you will see proxy settings. Check the 'No proxy' box by clicking on it and on doing this your problem will cease to exist.
We do hope that the problem got fixed for you being a Firefox user, Enjoy!
How to fix 'Proxy server is refusing connections' in Google Chrome?
Google chrome users don't need to worry either since we have also got a fix for them too. Here is what you need to do to fix the issue in the google chrome.
Note: This fix also works for Internet explorer so I don't need to do some separate writing for it.
Go to the internet options from your computer. You can do that from your internet explorer too by clicking on the 'Tools' in the tool bar and then go to internet options.
Now click on the 'connections' bar in the internet options.
There, look for the 'LAN settings' and enter them.
In the LAN settings, uncheck the button 'use a proxy server for your LAN'.
Now try browsing internet on google chrome as well as internet explorer and we are sure that this shall fix the problem for you. Keep visiting AGEEKY for more help.