Hey guys ! Hope you remember me. My previous post was about How to root Xiaomi Redmi 1S. Today we will be seeing about the specifications of Sony Xperia T3 and a short review about it. It was launched in July 2014. This year has been the year of smartphones. We have seen many launches of smartphones by many companies.
This Sony was one of the best launches of the year 2014. The smartphone is known for its display. It features a 5.3 inch display. The pixel density is 227 ppi. So lets see the key specifications of Sony Xperia T3.
Sony Xperia T3 Specifications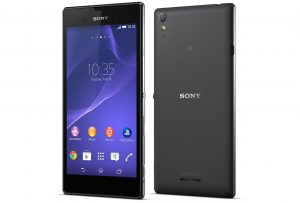 5.3 inch screen
1 GB RAM and 8 GB Internal memory
8 MP primary camera and 1.1 MP secondary camera
Android 4.4.2 KitKat – Out of the box
Quad-core 1.4 GHz processor
Li-Ion 2500 mAh Battery
These are the key specifications of Xperia T3. So let us take a look on each and every key specification in detail.
Display
The display of T3 must be noted. The type of the display is a IPS LCD Capacitive touchscreen. the resolution of the display is 720 x 1280 pixels. If you're planning to watch many movies on a smartphone, mainly 1080 p movies, then this phone will be good for you. The smartphone does have multi-touch points up to five.
Camera
Sony smartphones are generally known for its camera quality. With the 8 MP primary camera, you will be able to shoot some number of high clarity pictures. Xperia T3 does have LED flash and Auto focus. It does also have some of the common features like HDR, panorama and touch to focus. The 1.1 MP secondary camera must be good enough to do some video chats.
Android version : Android KitKat 4.4.2
The smartphone comes with Android Kitkat 4.4.2 out of the box. For now, you won't be having any worries about getting the latest Android updates as Sony T3 comes with Android 4.4.
Memory
The RAM of this device is about 1 GB. It is more than enough if you are a normal user. With the Adreno 305 GPU and 1 GB of RAM, you will be able to play some number of high-definition games without any problem. The smartphone is really good for daily usage. Now talking about the internal memory, it is of 8 GB. The external memory can be expanded up to 32 GB with the help of a SD-card if you feel 8 GB won't be enough for you.
Processor
The chipset used in this smartphone is Qualcomm Snapdragon 400. With a Quad-core 1.4 GHz processor, you can expect some good performance. I hope there won't be much lags as Sony Xperia T3 does have a 1.4 GHz Cortex-A7 processor.
I hope I've explained some of these key specifications. I hope you had liked the article. Also I'm expecting a feedback from you guys. Thanks for reading the post!