When you look out on internet for instant messaging apps, you would become confused. There are several apps for the purpose and each app is so good that it becomes difficult to choose one for yourself. This is not just a challenge for users but also for developers to make such good app that would overtake other apps and make place in hearts of people. That's why they go through a lot of hard work and build an app which would be right according to the needs of users and they would welcome it well. In this battle of instant messaging app, Kik Interactive thought of something new and developed an app which was so good that it spread like a virus among the people. Within no time it became so popular that today it is one of the top used instant messaging apps. They named it Kik Messenger.
What is Kik Messenger?
Kik Messenger is an instant messaging app developed by Kik Interactive for Mobile devices including Android, Apple, Windows phone and many other such platforms. It was released on October 19th 2010 and is now about 5+ years old. Initially it was the effort of Canadian students of University of Waterloo who were trying to develop new mobile apps. They didn't know that an app they would create would become so popular that it would reach a milestone of 1 million users just in one week.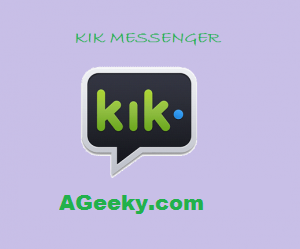 Kik attracted a very big fan base towards. According to the stats released in December 2015 it was used by almost 240 million users. 40% of the American population that are using this app are teenagers.
With Kik you can have endless chats with your friends. You can talk to them for hours and there are no limitations to the use. Kik provides much privacy and anonymity to have relaxed chats. You don't need to register using your mobile number like other IM apps on the internet. A username will be your ID on the Kik with which you can add your friends and have endless session of talking.
How to start using Kik?
Using Kik is not something difficult. It requires a simple internet procedure and then you will be ready to start using Kik. Let us tell you with the help of a step by step guide with the help of which you can learn to start using Kik.
If you are an Android, Apple or Windows phone user, simple go to the respective play stores and download the Kik Messenger app there.
After downloading, install the app and Open it.
Then you will have a login screen like this.
Since you are a new user, click on Register and you will have a screen like this.
Now you will need to enter all credentials such as username, e-mail and password etc. Enter them and sign up to start using Kik. This will be your first look of Kik and since you are new user so ofcourse there can't be any chats.
Now you can always use Kik by opening the app from phone menu and enter your login credentials. Login will look like this.
Once in the Kik, Click on the Settings in the upper right corner of your screen to enter the settings. In settings you can update all your information such as profile picture, name, email and password etc. Also customize your other settings such as notifications, chat settings and many other as you can see in the picture below.
Now in the conversation screen, look for a search icon as shown in the screenshot to start searching for friends. Ask your friends who are using Kik to add them and also make new friends by looking for other profiles.
You can also create group of friends to start having group chats which is more fun than individual but of course you can't add your crush there LOL!
Beware of Spam accounts:
When you start using Kik, it is possible that you might receive chat invites from people who you don't know. Mostly there are accounts with the names of girls and pictures and if you flirty nature person then you might start chatting them. They will talk like they are your good friends and know you for sometimes. Then they could send you their picture mostly vulgar and in return ask for your snaps. Here is where you need to be smart. At once block that account because they are spammers who are trying to play with you. They could use your pictures for their evil purposes on the internet and while chatting could also invade and effect your device.
So whenever you start using Kik, only add the people who you personally know and block the spam accounts. Having chats is a good thing but with the people who you can trust.
Features of Kik Messenger:
There are a lot of things that you can do with Kik. There are several enjoyable features that you can enjoy and have a lot of great time with your friends. Let's make a list of some of the amazing features of Kik.
You can do endless one-on-one chats and can also create group of friends to chat. Have fun with your friends and have personal chats with your crush or business person and nobody is going to bother you.
Share lots of multimedia stuff with your friends and family on your Kik. Send them your videos and images from the events and in the moments where you missed them. You can send and play games with them which is really a cool feature.
You can search for random people, see if they are of your kind and make an eternal friendship. You might find a lot of people of your internet or those matching your thought and you can discuss everything with them. This provides a great opportunity for learning since you may find people from various field of technological and medical sciences and could ask for their help in your study.
You don't need to register Kik with your personal mobile number like other apps. All you have got to do is think of good username and register with your email. In this way you can protect your privacy your identity is nothing but just a username which could be anything.
Kik Messenger Controversies:
Though Kik is a lovely app but it has always been creating controversies one way or another. In fact there is nothing wrong with Kik but it is few evil minds who find their bad ways anywhere.
There have been several crimes reported that were committed with the help of Kik and left bad marks on the use of app. Here are few of the controversies that put unforgettable marks on the app.
Child exploitation is #1 when it comes to controversies created by Kik. Media and parents always seem to raise questions on the use of app. A man once told media that He, within 20 minutes, can hack out the pictures and videos shared by any teenager. Teenagers sometimes share vulgar content such as their nude pictures or videos and this is where a good part of child porn on the internet comes from. Hackers and other evil sources get their hands on the content and then use it for anything they want. They use such content to blackmail teenagers and their parents for money. Such things really makes you think whether it is an app worth using. Of course you can protect yourself by taking good care but you can't always stop sharing what you want with your friends.
Another thing that makes use of Kik questionable that parents have very minor access to their children are doing on Kik. They have no other way other than the ID and password of children to access their Kik see what they are doing. Teenagers admire Kik for the thing that it is easy to send private stuff keeping from the eye of their parents which leads them to serious problems. If you want to use Kik then make sure you do what your parents would allow. Don't share serious stuff such as very personal photos, videos and things to avoid future troubles for your parents and for yourself. And if you can't stop doing it learn how to deactivate kik which am going to tell you ahead and start using more safe apps in this case.
How to deactivate Kik Messenger?
Kik is a wonderful app for communication and fun with your friends but it is possible that you might want to stop using the app. This could be due to that you simply get bored or other reasons such as ones mentioned in the above heading. Now to deactivate Kik account you will need to learn a simple procedure and a few tips to get rid of it permanently. Because you can't delete kik account permanently that's why you could try a trick of mine to stay away from it. So let's get started with the procedure of deletion of Kik messenger account.
Step 1:
Open Kik messenger from your phone menu.
Step 2:
As I told you where the Settings are, click on them or if you don't remember then watch the images below.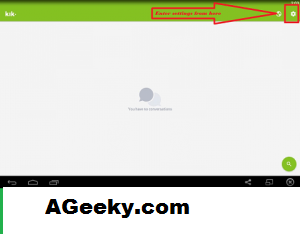 Step 3:
Go to the Account setting there by clicking on Your Account.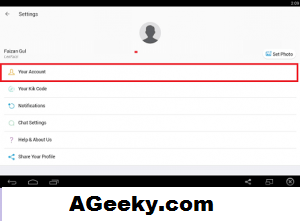 Step 4:
Here you will be able to Reser Kik button at the end. Click on it and you will be asked to enter your email.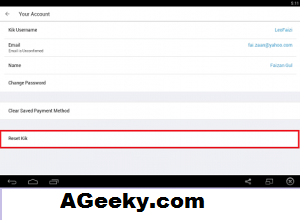 Step 5:
Enter your email in the bar and click on Reset. You will receive an email within few seconds to confirm the deactivation procedure. You will have to click it for being done with the process. This is how you activate your Kik easily.
Deactivate KIK Account- Video Tutorial:
How to get rid of Kik Permanently-Step by step guide with screenshots:?
But wait this is not over yet. This is just a temporary deletion can be undone if someone simply enters your ID and password to login again. To make sure that no one even you visits your Kik in the future then try a new idea. Want to know what it is? So keep reading ahead another method mentioned in easy steps.
How to Delete my kik account permanently?
Create an email which will be used in this method. Make sure that you don't use that email anywhere again.
Follow the above processed screen shots to reach the Account settings on your Kik.
Just below Kik Username you can see email button. It contains an email that you entered while registering for the first time on Kik.
Click on the button and it will provide you with a pop-up to change your email as you can see in the picture below.
Now enter that spare email that you just created after my instructions. This new email will replace the old email and your account will be transferred.
Now simply follow the 1st method in the previous heading to deactivate your Kik account.
Since the email you created was a spare one and was created only for this purpose, forget it. Make sure that you use it nowhere and tell it to know one. Also change change your Kik password before deactivation.
Don't forget to completely remove all your data such as images, videos, moments, GIFs and each and everything. When you won't be on Kik, nobody will be able to keep a track of you so this is very important that's why.
Kik Messenger World Wide Reception:
Being such a marvelous instant messaging app, Kik received a great worldwide appreciation from users and the experts. Despite of all the cons that are mentioned in this post, it managed to hold a Google play store rating of 4.3 with about 1,307,222 five star votes from the users. Many experts said that it would be a part of your phones for don't how many years and you won't be able to delete it from your phones. And this is very true. There are so many instant messaging apps out there but for Kik lovers they are just useless. It has become a worldwide addiction where finger keep tapping the screens. Millions of messages containing emotions of love, friendship and affection are shared every day. We hope that Kik Interactive will soon work on the cons and misuse of the app and we can keep having fun with our favorite instant messaging app.