You might read many things about Kik all over the internet as well as on this site. From our home paste post on deactivate Kik you learned many things such as how to make an account for Kik messenger, how to use and how to delete your Kik account. Here we will talk about how to logout of Kik?
Well I know most of you guys don't know about that. When you are done chatting, you would logout while using any instant messaging app but it seems that you can't do that on Kik. It is because you can't see a sign out button or option anywhere in the app. So what to do then? Of course due to privacy issues you won't want to logout of Kik so what to do in that situation? Don't worry I am just elaborating the introduction to let you know that what this post is really about. Here you're going to learn not only just to sign out of Kik but also going to learn some more things about Kik that you didn't know. So are you ready to get started with the procedure of how to sign out of Kik?
Sign out of Kik: A step by step guide:
When you would search on Google about how to sign out of Kik you will come to know that there is no sign out button. Which means it is not your fault to never know about this thing. Now you must be worried that if we do not have sign or logout option then how it is possible to do that.
Well to tell you it is not just possible but also very easy. Here you will uncover something that has already been told. Want to what is that? Read ahead.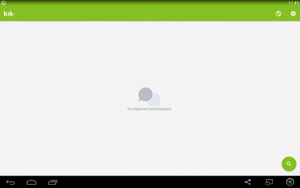 So this is your Kik messenger and in its upper right corner you will see a settings icon like in the image.

Click on the settings account and you will be promoted to settings menu and there are different options which will look something like this.

Here you can see that the first tab is named your account and this contains all your account settings. So open this tab and wait for the next screen which will look like an image below.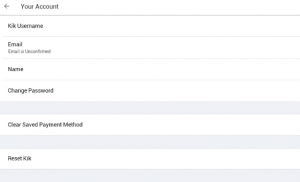 Now this is where your sign out option lies. This looks like some mystery or you might be thinking that this fool is talking about LOL! But this is not your fault either. Watch Reset Kik option at the end of menu. This where your mystery lies and do you guess what it is? Well this is actually is your sign out button. Because when you click on the reset it brings up the login menu and it doesn't delete your account. You can enter your credentials to login again in the Kik. If you don't want to believe me that here is proof. See what happens when I click it.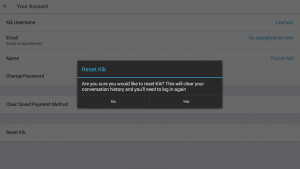 Here I am clicking on the YES and this promotes me to the login menu again. See!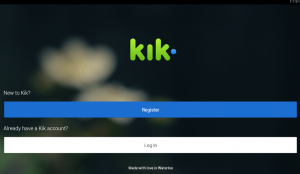 So isn't this proof enough? Now you might be amazed that what just happened. You must be thinking that why developers had to put you in such confusion instead of giving a simple logout button. Well we too are looking for the answer to this question. But until we find the answer we are happy that we unveiled this mystery and we were able to help you with this Kik sign out thing. But wait! Did you see what the 2nd last screen shot said. Read!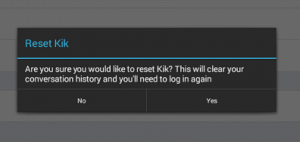 According to this after clicking the YES option, you will also lose all your conversation history as well. Now you must be thinking that how can you handle this problem. You had some lovely chat session with your friends and now they are all going to be lost. Let's discuss a solution to this problem of yours.
Did you know that you can back up your Kik messenger? Well you can do that only if your Android is rooted or your iPhone jail broken. Only thing you can do which I know of is that you manually save your conversations. You can do this by holding the tap on individual chat and then use copy command to save all your chats in some other document.
Now for those who have rooted or jail broken devices they can know in the next heading that how they can back up their kik messages. But why do they need to that? There are many reasons for it:
When you login to Kik from a different phone, you can still have your chats.
You will be able to move all chats to another phone.
How to Backup and restore Kik Messages?
For this purpose we will use an app named "Backup and restore for Kik' which is the only app in the Google play store for the cause. Here is a step by step guide to do the thing.
Download app from the below Google play store link and install it on your Android device.
After installation open the app and you will be able to see 2 option named Backup and Restore.
Now click the Backup and this will save all your messages in it.
Now login to your Kik messenger and by going to settings delete all of your Kik Messages and all the chats. Make sure that you delete all of them and don't worry because the software has already backed them up.
Now open the software again and as you can see the Restore button, tap it.
Wait for sometimes. It will take few seconds or minutes depending upon the size of messages and speed of phone.
After sometime it will restore all your Kik chats. Now as soon as the process is over, open the Kik messenger again and see if your chats are already there.
Lean how to deactivate kik account permanently with video tutorial.
Was this enough from signing out of Kik and backing up your chats? Stay tuned to our website for more stuff about Kik messenger.