Sometimes due to some reasons you come to need of deleting your chats in instant messaging apps. In some places such as Facebook, you can retrieve your deleted messages but the case is not the same for Kik. Kik messages once deleted cannot be retrieved or you can say that there is no official way. So how can you restore Kik messages? Who cares about being official, there are some tricks with the help of which you can retrieve old Kik messages. So let's go on with the little but could be helpful procedure.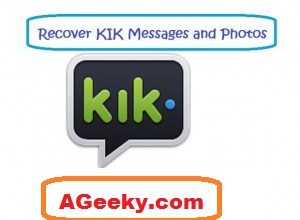 Ask your Friends:
Before going on to the other software thing, there is a way a little strange with which you can retrieve deleted Kik messages. That is to ask your friends who you have chatted on Kik to send your conversations with them on the app. Do remember your friends who you have chatted or you just want to retrieve an important conversation then ask the respective friend to do the honor for you. It is not necessary that you ask all friends but only the ones with whom you chatted important stuff. Otherwise you can try other technique in the next heading which might work to get your deleted Kik messages back.
Recover deleted Kik messages with Backup and Restore app:
There is only a single, one and only app that is able to backup and restore your deleted Kik Messages. Here is a simple step by step guide to do the thing.
First you will need to download the software named 'Backup and Restore Kik' from Google play store. There is a link at the end of this post to download the app.
Once downloaded, install the app and then open your Kik.
Now before deleting Kik messages, open the software and click on Back up to let the app backup all of your Kik data including conversations.
Now if you want to delete your conversations for some reasons then do it freely because your data is already backed up in the app.
Also keep in mind that you don't uninstall the app because then you will lose all backed up data.
Now whenever you want to retrieve the kik messages, go to the app and click restore.
And this will restore all of your Kik conversations within seconds.
How to recover deleted Kik Photos?
2nd is this thing which bothers the Kik users when to be retrieved. But don't worry its way is easy and can be done easily. This is for those who have iCloud backing up their photos.
First follow this route to check whether you have backed up your photos in the iCloud. Kik Messenger Settings > Photos > Photos Backup.
Then you will have to uninstall the Kik messenger. After uninstalling you will need to verify the phone number from the Apple app store.
Now if you didn't have that backup, you can still try this to get your deleted photos back.
iMyfone data recovery for iPhone is the software that does the job here.
Download and install the software.
Now in the software, use Kik messenger history to find the deleted image files.
Preview your photos that you want to recover and restore them one by one or on whole as you wish.
I am sure that this will work for you and you can have all your memorable photos back and have fun! Stay tuned to our site for more of the amazing and helpful content on Kik Messenger.